What Is Your Favorite Salad Dressing?

United States
December 9, 2008 7:33pm CST
I only have a few salad dressings that I like. Ranch, French, and Italian. I love ranch for dipping, I will dip my onion rings, pizza, and pizza rolls in it. I love to use Italian dressing when I'm making a pasta salad. I'd say my favorite dressing for a salad would be French dressing. What is your favorite salad dressing?
8 responses

• Canada
10 Dec 08
my boyfriend's mom makes homemade caesar salad dressing and its absolutely to die for!! that would have to be my favorite dressing. besides that, when i make my own salad i usually use olive oil and rice vinegar as a dressing. very tasty!


• United States
10 Dec 08
I normally go for Western dressing and Ranch on my salads. I also really like this Zia's stuff that they have on the salad bar at Schnucks. It is a Sweet oil and Vinegar. I found some on the shelf the other day so I bought a bottle. I just ate a salad with some on it.

• United States
10 Dec 08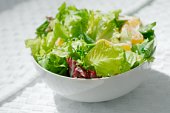 Hi girlfriend! Long time no talk!

I just got the urge to jump on MyLot for awhile since I hadn't been here in awhile!On my salad, I absolutely love using Thousand Island and Bleu Cheese. Hey, don't knock it till you tried it. lol If i can't get that, I just ask for ranch dressing. I'm like you. I use ranch dressing as a dip for most anything, like onion rings, french fries, pizza crust and of course vegetables. Yummy!! Ok, now I've got to go get something to eat. Have a great day! Char


• United States
10 Dec 08
Ranch dressing all the way for me in fact ranch is the only kind of dressing I like on my salad I dont like french and I dont like cesar dressing but I love the taste of ranch dressing, I eat ranch dressing on fries fish sticks chicken nuggets chips yum yum ranch dressing. lol happy posting.



•
10 Dec 08

My favourite would be ranch. I love this also and could have this with everything. French and Italian are nice also. I love french on my salads but my favourite with salad is ceaser. It really goes well with it. Yip ceaser it is for me.



• United States
10 Dec 08
My favorite has got to be Thousand Island. I love it on salads. I've never tried using salad dressing for anything but salads. But I have dipped my McDonald's french fries into my milkshake before. Does that count? LOL