Barbeque?..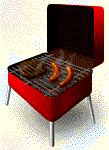 Denmark
November 8, 2006 7:37am CST
do you make barbeques with friends?how often does it happen,is it on sundays,on sunny days,or only on special occasions?me and my friends often make barbeques in summer,eating on the green grass in a nice sunny day,and enjoying a good meal..and of course on special ocasions but usually at home,and with family
8 responses

• United States
10 Dec 06
I love barbeques. Its harder in the winter but it can be done. We usually go over to my son's house to do it. My favorite thing on the grill is steak. And I like chicken better this way rather than in the house. It just tastes better. And once a year we get together with my boyfriends family and go to the lake to have a picnic. Its lots of fun.

• United States
10 Dec 06
Barbequeing is great. Me and my friends do it all the time. We almost always do it at my best friends house because he has a large swimming pool and an even bigger back porch with alot of landscaping and plants, so it is very comfortable for everyone. We all have alot of kids and this gives them plenty of things to do and room to do it while we sit around and watch the smoke from the grill and enjoy our beverages. we cook with mesquite so the flavor is terrific. We usually do this 2 or 3 times a month all year long. The cold in Texas isn't enough to keep us indoors.

• Denmark
10 Dec 06
mm i have always imagined a place like that..hopefully one day i will have it:)


• United States
12 Nov 06
It used to be more of a summer thing and when ever we could get our friends over, but now that we live in beautiful whether at all time (keywest) we do very often...the only reason we woulnt is on a nasty rainey days...and that sometimes still doesnt stop us!

• Denmark
12 Nov 06
we have 4 seasons here in my country so usually on summer we make barbeques...but on christmas and new year's eve we will make some also..and i can't wait!!!:)


• Denmark
12 Nov 06
yes,i preffer chicken also,pork or beef it is usually heavy for the stomach..

•
12 Nov 06
I love BBq's, I just wish I could hold them where I live at the mo but I don,t really have much of a garden. I mostly get invited to friends and families BBq's I love it. xx

• Denmark
12 Nov 06
yeah i don't have a garden either...we usually go in a forrest ot special camups do make one..but it is still fun.