Losing our perception of hearing in this world of audio visual....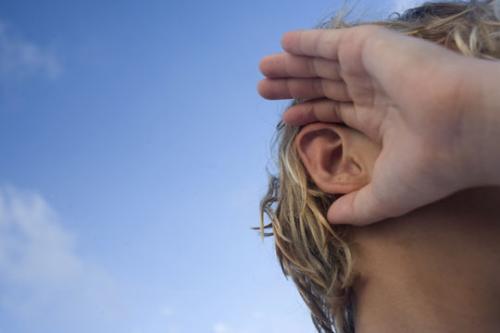 India
December 12, 2008 5:51am CST
Do you feel that in this audio visual age (where we watch someone perform a song and not just listen to it....) we are gradually losing the sense of hearing or better still are we losing our ability to listen the way we used to? I have noticed that on talking over a long period on phone I kind of lose concentration and my mind digress, especially when it's a general day-to-day talk. As a child I remember enjoying those beautiful drama sessions on radio but only last week when I tried to listen to one of my old favorite programs, I couldn't concentrate! I just couldn't sit back through one hour!! We are so much pre occupied with things that we hardly can pause. Always thinking about something to be done! Are we being metamorphosed to a new species - that's too scary! Let's not go there but, is this just because we are getting more fidgety and increasingly peace and sanity or its just that the Audio visual media is taking over our sense of hearing?? This is getting long, thanks for hearing me out patiently.
9 responses

• India
12 Dec 08
This is a very good discussion to which I can relate myself very much.You have taken me to the days of Amin Sayani and the BBC radio crime series to which I was an addict.Even now I always find a great difference between hearing a song in my car stereo and watching it in television.We definitely loose the nuances of the audio on TV and are distracted by many visual elements that kill the soul of the song. Thanks for giving me a chance to pour out what was nagging me for quite some time.

• India
15 Dec 08
Those were the days Bala! And even I get nostalgic, very, when I remember those days. Listening to oldies beings back fond memories. And in this of AV children are so much distracted. I wonder can they really listen to a song! With so many factors to contribute our sense of hearing and power of listening is deteriorating, I feel.

• India
15 Dec 08
I just don't remember even a single line of today's songs.I just can't remeber andI don't want to remember too. I still remember the complete lytics of the great songs of Madan Mohan, Salil choudhry,C,Ramachandra,Roshan,Nausad saab,SD and RD Burmans which makes me verycontent and happy.

• India
15 Dec 08
Same here Bala. Their lyrics, melodies are evergreen and they still excite me, make me smile, make me cry. Time and gain they have elevated me and I really owe these great men a lot. Today's lyrics are like 2 minutes noodles, with less originality and even lesser effects.


• India
12 Dec 08
There are many aspects to this Mimpi. Firstly the fact that we are bombarded by sound pollution everyday, the noise of traffic,horns,people and the digital sounds of the mobile phones and the long perod of our using them. Also with the oncoming of digital sound, the true sense of music seems to be getting lost and we seem to be unable to audibly distinguish and recognise the same. Secondly is the fact that we the pace of life itself has increased, the tensions, the stresses, so much to be done in life. Our priorities ou preoccupations all seem to distract us from really relaxing in the ways we used to. Further as age comes so does responsibilites which also adds to it. We do seem to be loosing that perception and you will notice how different things are when you are in the surroundings of nature over a period of time. It is scary and the more we adopt to the city life and trying to cope up with the modern technolgy and age the more i feel our perceptibility and senses may deteriorate. As long as your discussion may seem, it's most apt and a great one. Thanks

• India
13 Dec 08
I agree with you. Will come back again..

• India
13 Dec 08
I remember how i would listen to my favourite music and pay attention to the instruments , the depth and feeling of the voice would get me lost in my own active imagination. Today with the audio visual form, the same feeling fails to be induced and i too cannot seem to sit through and enjoy a musical performance.It also has a lot to do with my own mental pre occupation.

• India
13 Dec 08
Thanks for your addition. I do feel that we are losing our concentration. Living on the edge has successfully made us fidgety, short tempered and distracted from the nuances of life. we have forgotten to stop by a thing of beauty and appreciate! We are so stressed up, so much pre occupied that it keeps us away from the present. Undoubtedly, the audio visual effect is more deep and many times we lip read. That saves us from a lot of things that we fail to hear. Pollution, is another thing that needs major concern. In countries like ours, we hardly even follow basics, like no honking near schools, hospitals and things like that.


• United States
13 Dec 08
Hmmmm, I haven't really noticed not hearing things. I am the one in the house who hears the tiniest little thing, even when there are tons of noises going on around me. I LIKE hearing, so I make a point to listen to music, and actually hear it, the lyrics, the different instruments in it, etc. I listen for birds when I go outside. Heck I even listen for airplanes. I guess it makes me more secure in my world when I listen carefully and hear the normal everyday sounds around me.

• India
15 Dec 08
This is such a bliss! Bo, I was searching for such bliss since a long time. You have just shown me the way to heaven!

• United States
15 Dec 08
I think that sometimes we get so engrossed in everything else in our lives that we forget some of the simple things, mimpi. I go so busy living my life, that I forgot to actually enjoy it. This is one way you can slow things down for a little while during the day, ya know? When 9-11 happened, and there were no planes in the air for awhile, it was quite eerie, to me. There is an international airport not far from where I live. We were used to hearing and seeing planes all the time. It was not until all the planes were grounded, that I realized just how much we don't hear every day. I think that is when I started taking time to notice the sights and sounds around me, and to appreciate the fact that they were there. Like I said, it makes me feel that things in my world are "normal", that my little corner of my little world is as it should be.


• Philippines
30 Dec 08
Heya, I do think that humans are generally inclined to visually learn things. We learn faster that way. Like the saying goes "To see is to believe" and when we see things we believe that it exists. We see the shape, texture, form, just the overall physical appearance of things. On the other hand when we hear things, it might be associated to be just in our heads and in our imagination. To people, seeing things has more credibility than hearing things. But yes, I do agree with you that the more multimedia develops especially in the favor of more realistic visuals, the audio component of the experience might be shut off to a degree. We would be more preoccupied in scrutinizing every detail of the things that we see and not minding what sound it can make. I guess it just is more of a distraction of the things that we really need to focus on visually or auditory.

• India
31 Dec 08
Hi BJ you ave put it so very well. Indeed in today's age of AV and multimedia our perception is formed so much in totality and only perception of listening gets lost, distracted somewhere in between. The noise pollution together with pollution within ourselves add to this declining perception. Thanks a lot.

• United States
16 Dec 08
I haven't given this much thought. But yes, for some phone calls and even actual conversations, my attention tends to drift. I don't know why. I know I was good at focusing on one thing when I was younger. Anyway, I still like to stay in my room and just turn the music on and just listen. That relaxes me. But if it's oral or verbal or without any kind of music, I probably would not stay in that room for a long time. It is a scary thought.

• India
17 Dec 08
Good for you Sisi. Losing focus makes us feel so bad, I tell you. when I cannot concentrate I just get jittery, I take a break and it starts to work for me.


• India
15 Dec 08
Thanks you subha, for mentioning this. Cell phone is an important thing that's doing a lot of damage to our focus. Trials revealed that it actually reduces our memory. Even though its a long and gradual process but its proven. Thanks subha.

• United States
13 Dec 08
I had to make some business phone calls this morning and through extreme luck I managed to get two really good service reps in a row. They spoke flawless English and spoke slowly in a modulated tone so that it was easy to understand them and pleasant, too. I remarked on it and gave an example of what I had been expecting: "What do YOU want? We don't DO that! Mrrrumblllll Grrr Growl!" It was so refreshing. Sometimes the people on the phone try to make me feel lik there is something wrong with my hearing when actually they are not being at all articulate. Sometimes it seems hardly anyone concentrates anymore, and then we get a couple of good people and everything is OK again :-)

• India
15 Dec 08
That's so optimistic, I really appreciate. We indeed lacking our concentration. We are always in a hurry, always preparing to live and in the process we are not living. This is sad!

• India
12 Dec 08
You are correct Mimpi, In this fast paced world.. no matter how hard we try to live a calm life,i mean, tend to outsmart this world..but it ends.. only.. in "
Okay next..Okay next..
,
what next.. we hardly think..
Mimpi, leave alone the subject of passionate hearing.. the habits of even reading books.. newspapers has lost its significance.. To be frank with you,friend..
even in reading this long discussion
i have no passion to read it to the core.. just grazed over it.. and started responding...

Take care friend.

• India
15 Dec 08
I can get you and trust me most of us are with you. we are living on the edge where we struggle every moment to carve a niche. But now, I have let go. I am not in the rat race or anything that doesn't make me happy. May be I am lucky to pursue my dreams, but I have had my share of bleak days, Venkat. I just wish you to live life your way. Many times its not possible but try to take out a few hours for yourself only. It would make the difference.


• India
12 Dec 08
i do seem to be able to concentraate less nowadays.previously,i could finish reading a chapter of a book within half an hour.now the same thing takes about an hour.also i need perfect quietness,to concentrate on any job.i thought maybe my kids cacophony maybe the cause of this.also one has to admit that,one cannot be as carefree as one was in their teenage years.now there are lot of responsibilities(previously also it was there but they could be shared due to nuclear family)now times have changed and also their are lot of tensions now like the economic crises,terrorism etc.all these may be contributing factors.

• India
15 Dec 08
Riya, even I feel the same way. We are losing our concentration to so many worldly things! And there are never short of catalysts and active external agents, if I could say, to add to it! Silence is bliss and I am searching for that bliss.