Green Or Hairy???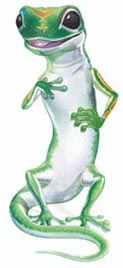 United States
December 14, 2008 9:24am CST
alright, this question might not make sense for people outside the US. anyways, you know those Geico commercials? which do you prefer? which annoys you more? the little green gecko or the cavemen. i don't mind the little guy, but something about those cavemen just rubs me the wrong way. what about you???

3 responses

• United States
15 Dec 08
Hey sconi! I with you! I love the little gecko! He's so cute! How could he be annoying! But, I find those cavemen to be obnoxious and creepy! I don't like any of those commericials and to think they actually gave them their own show for like a minute? What the hell were they thinking? Like people were going to watch a show with the cavemen? I can't stand to even watch their commericials!

• United States
15 Dec 08
ALRIGHT Opal!!! you broke the tie. that's 3 for the gecko and 2 for the cavemen.... cavemen are ex
stink
t anyways.



• United States
14 Dec 08
yeah i think the cavemen remind me too much of.......well......ME!


• United States
16 Dec 08
i much rather have the gecko than the stupid cavemen!