This is a really ugly fruit! What do you call it?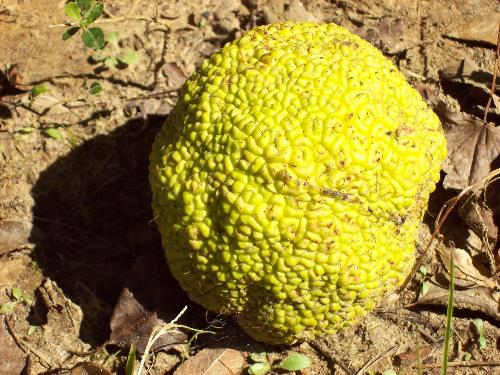 United States
December 14, 2008 4:27pm CST
My husband laughs at the pictures I take sometimes, but when I find something I have never seen before, taking a picture is the only way I can remember to look it up when I get home. Recently we were in East Texas and I ran across this really ugly fruit and had to take a picture. When hubby noticed I wasn't still walking with him, he asked what I was doing. Obviously, having the camera in hand wasn't a big enough clue, so I told him I was taking a picture of some ugly balls so I could do some research when we got home. He laughed and said, "What, you never saw a horse apple before?" Since he was able to put a name to it, I had lots of questions like, Why do they call them that? Don't know. Do they feed them to horses? No. What are they used for? Now on this one he was a little more knowledgeable, but not much. Seems that when he was a kid, his grandmother would put them under the sink to keep the roaches and other pests away and he was surprised that I had never heard of them or used them like that. Well, I finally got to do some research on them today. When I did a google search for horse apples, I found a link to wikipedia and found out that they have different names depending on where you're from. According to Wikipedia, they are also called Osage oranges and according to some of the related links I followed they are sometimes referred to as hedge apples. Looking at the pic I took, I can't really say that it looks anything like an apple or an orange, but I was quite amused to find another, more descriptive name at the bottom of the page from Wikipedia. Believe it or not, it's also known as Monkey Brains or Monkey Balls. If you're familiar with this ugly fruit, what name do you know it by? Know of any other uses for them?
6 responses


• United States
15 Dec 08
I saw several pages that mentioned it being used as a spider deterent as well as other pests, but then there was a link that said there was no proof it worked on keeping spiders away. Have you had any experience with them preventing spiders?

• United States
15 Dec 08
I know several people that swear that they do. My grandmother use to make it a point to have them, my mother always had them around in the house. I don't ever remember having any insect problems. If you use them you are suppose to put them places out of the way where kids and pets can't get to them.not sure if they are poisonous or just that they may scare the crap out of them( and you don't wanna have to clean that up....LOL)

• United States
16 Dec 08
That's good to know. My sister in law is realllly afraid of spiders so I'll collect some for her when we go to East Texas again. From what I read on wikipedia they will make you sick if you eat them but apparently birds, deer, squirrels and other wildlife really like them. It explains how new trees keep popping up in new places.

On one of the pages I was reading a poster had mentioned slicing and baking them as ornaments. Maybe I'll suggest that my sister in law just cut them and tie a string to them so she can hang them up high enough for the spiders then she won't have to worry about the little kids being able to reach them.

• United States
14 Dec 08
growing up in texas, yes i have heard and seen plenty of horse apples. when i was young, you could get old fashio, sturdy wood matches, stick the end in the horse apple, you would all but cover it with matches. then roll it down the street or sidewalk, as it rolled it would strick the matches........easily amused when we were kids lol

• United States
15 Dec 08
LOL, at least you weren't bored as a kid. I don't know which would have made my mother madder, using up her matches or the possibility of causing a fire.


• St. Catharines, Ontario
14 Dec 08
Kinda looks like a horse chestnut... but not really. You break them open to get at the conkers inside.

• St. Catharines, Ontario
14 Dec 08
Also bears some resemblance to the Jamaican citrus fruit whose name actually is UGLI.

• United States
15 Dec 08
LOL, I can just imagine the looks I would get if I went to the grocery store and asked for some ugli fruit.


• United States
23 Dec 08
Actually there is a fruit called Ugli Fruit. But it looks nothing like the horse apples. Its a different kind of ugly lol.

• United States
29 Dec 08
When I was young my grandmother would place this fruit everywhere in her house to keep spiders and so forth away. It did work I never ever saw a singer spider in her home and still dont to this very day

• United States
30 Dec 08
Hi StarChild517. I am SOOO glad to know this really does keep the spiders away. I will be sure to collect several of them for my sister in law the next time I see them. Out of curiosity, did your grandmother have to tell you to stay away from them when you were young? I know my sister in law will watch her nieces & nephews occasionally so I wouldn't want them to try eating them since it's supposed to make humans sick.



• United States
15 Dec 08
Does it really work for keeping the spiders out? On wikipedia it said there was no actual proof that it worked on spiders but my sister in law is afraid of spiders. If I knew it really worked I would gather some for her. Would you have to put them in the house or is it ok to leave them outside?

• United States
23 Dec 08
I have seen these fruits before, and I have always known them as horse apples. I wondered the same thing when I was told the name of them; I know that if I were a horse I would never eat anything that ugly lol. I never knew there was a use for them though, when I was a child I thought the only thing they were good for it chucking them at walls and watching them explode into nasty, white liquid-covered pieces. I am going to tell my grandmother about these, I'm sure she didn't know they are good for keeping away roaches either.

• United States
29 Dec 08
I tried to find them when we went back to East Texas again this weekend but apparently the wildlife have eaten them after they fell. Oh well, I guess I'll know to pick them up next year when I see them again. I was looking forward to collecting a few to give to my sister in law in hopes that they really did help keep the spiders away.


• United States
29 Dec 08
Well, I know they grow here in the Midwest too, and I always see them at the beginning of Summer I want to say. You may not need to go all the way to Texas, they are pretty widespread throughout the country.

• United States
30 Dec 08
I live in central Texas but I had never seen them before going to East Texas where my hubby likes to go hunting. Seems they are native to only a small area in Texas so I'll be watching for them next year when we go to prepare the property for the next hunting season. I'll just have to be faster than the critters that like to eat them.