Final Destination 4 is comming in 2009,how do you think about the previous 3?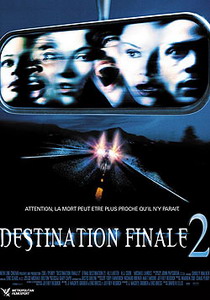 China
December 15, 2008 1:07am CST
In my opinion,Final Destination 2 is the best in the series,the plot is astonishing. and Final Destination 1 ranked 2nd place,it's plot is not as good as 2,I think 3 is the worst in the series.what's your opinion?
5 responses

• Brunei Darussalam
15 Dec 08
I enjoyed the first ine but the second one wasnt that good but then the third one was horrible and i think i didnt evenwant to finish it when i was half through the film! I dont look forward to the fourth one and i dont plan to watch the fourth one either, probaly it will depend if my friends saw its ok then no i wont watch but if its awesome then yea i would, i think it will just get worst .:)

• India
15 Dec 08
I watched two movies of this series but I don't know that which one is part first and which one is part second so I cant say first one or second one is good LOLz , yeah one of them is good one and I didn't saw its 3 rd one moives ,but according to its series I hope that 4th part would be good ...

• India
15 Dec 08
thank for information , if it is so then I like the plan crash one i.e part first , and hope for the next one well ....

• India
15 Dec 08
naw.. did u see final destination 3? it was suck a bad movie! so i dont htnk i would watch FD4 but i thnk tht the best final desinataion was the first one happy lotting and have a nice day!