There's always room for one more???

United States
December 15, 2008 9:41pm CST
Could you just keep on having children like the Duggars do? I'm not trying to put their family down or anything. It's just that in today's society, it's unusual to see a family that's that big. As long as they can care for each child that they have, and make them feel loved, what can I say about it. Right?
4 responses

• United States
25 Dec 08
Who we marry, how many children we raise is our personal right and I feel if a person wants no children or 18, that is their decision. That is one of the blessings of being an American. I watch the show and admire the patience and organization of the mother and how the father is also involved with the teaching of the children. I loved the episode where he taught the girls how to change a tire, and the boys learned how to do the cleaning, housework and cooking. She is doing what she loves, and that is being a mother. Do our children or children we see these days show the respect that I see given by the children to their parents? I hope we get to follow their lives for awhile as they leave home to begin their own homes and marriages.

• United States
25 Dec 08
I definitely commend them, and all they are doing. It just has to be difficult at times...and I'm not talking about in the public scene.

• United States
25 Dec 08
Duggars? What's that? Is that like Steve Martin in his movies? Oh well, whatever the case may be, I won't mind having another addition to the family, as long as it isn't still born, criminals, God hater, or anything else offensive. Folks, can I get a yes here? Yes!

• United States
16 Dec 08
That's exactly what I respect about the Duggars. They make sure all of their children get their attention, they support themselves and they are a loving family. I think four is enough...in fact, that's how many I had and how many I came from. But, to each his own...as long as you can care for and cherish each one.

• United States
16 Dec 08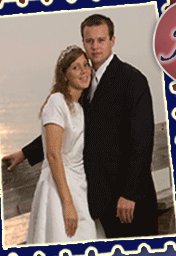 I see it this way. I believe if a family can support their children without the help of the government (welfare) then they should be able to have as many as they they can handle. That family seems to be able to have the time for the children as well. To many for me I don't think I could do it even if I could afford it. But if a Husband and Wife have a ton of love to give and no child would be left out and again if they can support them without aid then rock on.