Dr. G, Medical Examiner is on the case of little Caylee Anthony.

United States
December 16, 2008 10:32am CST
Most of us here in the U.S. have heard of the horrible story of little Caylee Anthony who has been missing since June of this year. Her mother, Casey, was charged with Child Neglect and Lying to Authorities in connection with her daughter's disappearance. She has also been charged with first-degree murder of her daughter, child abuse, aggravated manslaughter and four counts of lying to investigators about Caylee's disappearance. I turned on the TV a little while ago and was watching the live coverage of the crime scene investigation where the authorities found the body of a little girl. While they were talking, they showed some short film clips of the investigation. There she was, Dr. G, Medical Examiner. That's one TV show I love watching. I'm fascinated for forensic science and her show, to me, is one of the best. She has a pretty good track record of being able to uncover the cause of death in so many of her 'questionable' cases. Well, now I'm going to be following this case. I think Dr. G is one of the best in the country. Do you know who I'm referring to? If so, what are your thoughts about this case and what do you think will be the outcome?
6 responses

• United States
16 Dec 08
I watch forensic on Court TV but I am not familiar with Dr. G. I have been following the Caylee Anthony case, I am glad they found the little girls remains so that they can put her remains to rest properly. This is the saddest and most horrible thing I have ever heard of and her mother just went on with her life after this incident like nothing happened. I really and truly believe something is terribly wrong with that woman and her parents too. It seems no one has any heartfelt feeling for Little Caylee. Keep me posted in case I miss some of it.

• United States
17 Dec 08
Yes, that's what caught my attention. This woman, still, after being arrested, is showing no signs of remorse or worry or concern. She just wants to get out of jail. She waited for over 6 weeks before notifying the police that her daughter was missing??? WTF??? I mean, this little girl was 2 years old, not 22! Yeah, she's guilty and apparently way too stupid to even try to sound convincing when proclaiming her innocence. I think her parents were in denial but are now saying that they believe Casey will talk once she's allowed out of jail. Even then, I think Casey is pulling a flim-flam on her parents. She wants to run. I never did hear the story behind the father of this little girl but, from what I've seen, I certainly can't blame him for being out of the picture... Casey is most certainly insane! That poor little girl didn't have a chance. It's so sad.


• United States
17 Dec 08
I guess my brain is tired because I didn't even notice your typo. LOL I have the feeling we'll be seeing more of her throughout this case, once it gets down into the nitty gritty of everything. Right now, they're still examining the crime scene and I'm sure Dr. G was there simply to help with that part of the investigation.

• United States
16 Dec 08
I think this is the wife of a guy that comes on Fox News quite often. I want to think he's a medical examiner, too, or something in that field, because other day he told his wife went on the defense case, so he was limited in what he could say. I didn't see the woman and don't know who Dr. G is. I missed that today.

• United States
17 Dec 08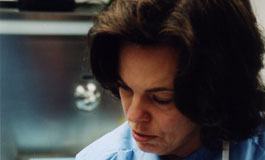 Here's a pic of Dr. G (a.k.a. Jan Garavaglia). At least, that was her name before she re-married. I don't know what her new husband's name is. That guy you're talking about could very well be him. I think she's a trip! She really gets into her work. I was floored when I heard how much MORE education a medical examiner needs after becoming an M.D.! She testifies on a lot of cases, both for and against the defense.

• United States
17 Dec 08
I looked up her husband, who is Mark R. Wallace. I couldn't find a picture of him, though. And he is a physician. I'll try and pay attention to his name when I see that guy on Fox News again. They usually have him on during something like this case of the missing little girl.

• Holiday, Florida
16 Dec 08
Dr. G is a very good investigator. and yes, i think casey killed her little girl because her mom was not there to watch the baby and she wanted to go party, etc. think she was tired of having a kid and not being able to do what she wanted. i think casey is just a spoiled rotten b..ch


• United States
17 Dec 08
Just a MURDERING spoiled rotten b..ch! Yeah, I saw the clips of her just bouncing along and smiling of all things!!! If my daughter was missing and I WASN'T guilty of murdering her, I'd be a basket case!

• United States
16 Dec 08
I am so excited as well. I love Dr. G. When does it show on tv? Do you know? I will so be watching this if i haven't already missed it. I can't wait to see what happened to that little girl.

• United States
17 Dec 08
Well, I'm sure this won't be on her show for quite some time, if ever. This case hasn't even gone to court yet! I just know that she's pretty good at what she does so, with her being involved, they'll at least know what killed this poor little girl and, hopefully, be able to pin it on the guilty party, most likely her mother.