Dance Preview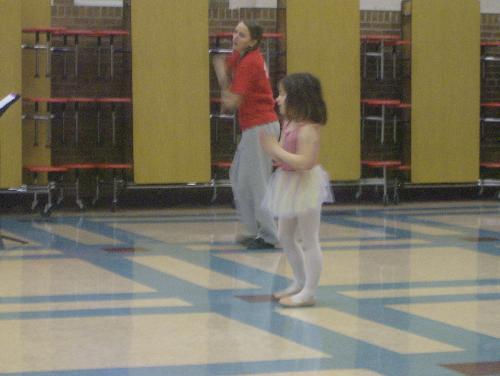 United States
December 17, 2008 9:10pm CST
My daughter had her dance preview tonight. She's in ballet and jazz dance, it started in October. The recital is in April. Since we're not allowed to watch their practices at all (distraction) we have no idea what they're learning or how well they're doing. This is why every December, before they break for the holidays, they put on a dance preview. They show us some of the moves their learning while they dance to Christmas music, then they do a couple minutes of the dance and song they'll do for the recital. I really enjoy seeing their progress between now and the recital. My daughter's been doing ballet for 3 years now, and is rather good. This is her first year in jazz. Is your child in dance? Do you get to watch their practices, or do you have a preview mid season?
3 responses


• United States
20 Dec 08
I've thought about gymnastics, especially for my oldest one. In preschool he was voted the best tumbler, lol. He's been good at doing cartwheels since he was 4, and can even do a backflip, and a front flip with no hands. He can't do the backflip with no hands though. He lands on his head, lol. But gymnastics is so expensive, plus he's more into football and soccer than gymnastics.

• United States
3 Jan 09
Well heck, if he's going to pay for gymnastics, let her do it! It might be a lot of fun, and if nothing else, will help her out in the future. She could use the skills she learned in gymnastics in almost any other sport or activity including dance, cheerleading, or whatever else.

• Jamaica
18 Dec 08
I would love to see this. My daughter could not dance as a child. The group would be swaying one way and Rachel would be moving all on her own in a different direction! The audience would be trying not to laugh as she was totally out of synch. I couldn't understand it as many years ago I did tap and ballet and my husband was a member of a dance group that travelled to many different countries when we were first married. The boys were great but my one little girl did not inherit any of the dance genes! Blessings

• United States
18 Dec 08
Nobody in my daughter's dance classes are very good either. I'm not trying to be biased, but she always looks like she's the only one who knows what she's doing. There are always teachers off to the side doing the moves along with the girls in case they forget their steps, and while watching the recitals ALL of the girls are looking off to the side watching the teachers. It could just be age or stage fright, but it seems like such a waste of money to get these girls into dance when they don't at least do their best.

• United States
18 Dec 08
Hi Kats! Oh how cute is your daughter...that's photo is just precious!!!



If you get any more pics, please post them, she's so cute!!! I myself don't have any kids, (sniff) but I've always been there for my nieces and nephews, and friends kids, and cousins kids; I am Aunt Jan Jan to so many out there...LOL! My oldest niece when she was little could not say my name so she always called me Jan Jan...funny!