Favorite Scrapbook

United States
December 19, 2008 7:45pm CST
Do you have a favorite scrapbook that you have made? How about your favorite one that you received as a gift? Well, I only have one completed scrapbook, which is one of my Hawaii trips, and I have to say that I am happy with it. I have received a few scrapbooks as gifts and my favorite scrapbook gift was my Chicago trip with 2 other friends.
6 responses

• United States
22 Dec 08
I don't know if I have one special scrapbook. I have done so many and different ones mean different things for me. I just completed one for my sister (for Christmas) which is one of my favorites at the moment because it's one I had meaning to do for her for years. I can't wait until she opens it. She's not one to show much emotion, so I keep wondering how she will react. It's more of the more personal and condensed scrapbooks I have done.

• United States
19 Jan 09
My sister loved the her scrapbook. She sent me a txt to say she loved it and also sent me one of those singing Hallmark cards which plays "You're Unbelievible" when you open it and says "You're to good to me" on the front. So, I would say that she liked it quite a bit and that it really touched her. Thanks for asking.

• United States
5 Jul 11
I actually have many scrapbooks that I've started, but none that I've completed. My favorite that I've been working on is the wedding album for my husband and myself. We are coming up on our seventh wedding anniversary at the end of this month, but I've not gotten our wedding scrapbook done because I tend to spend the majority of my time on working for books for our children. Instead of having a traditional baby book for them, I scrap all of the important events in their lives.

• United States
6 Jul 11
Congratulations on your 7 year anniversary

! That's so exciting! I do not have any children myself, but I have learned from other Moms that I know, including my own, that you tend to put your children first in pretty much everything, which is great

! My Mom put a lot of my birthday cards and pictures from each year in a photo album and I hope to someday turn it into a scrapbook. But I am still working on my Ireland scrapbook from my trip in 2004

. Once I am on a creative streak, I don't like to be interrupted once I've started and that's kind of difficult with 3 jobs. I am so glad that you now have the opportunity to complete something for YOU that was kind of put on the back burner, so to speak.

• United States
15 Jan 11
My favorite scrapbook is the one I made of my youngest two children. I had it mixed up with other pages, but it has fun things like halloween, my daughter's first day of school and her 5th birthday party. I have never received a book as a gift..scrap book that is :)

• United States
17 Jan 11
It's fun to go back and look at and re-live the fun memories of the pictures. Kids grow up so fast, but it's fun to see how they have grown. Sometimes I will look at pictures from when I was younger and hope to someday take the pictures out of the picture books to create a scrapbook. Thanks for your response!

• United States
8 Jan 09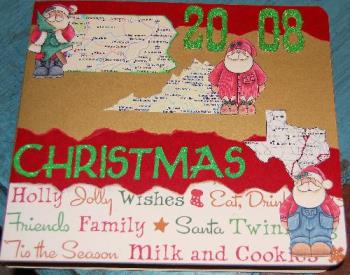 it's really hard for me to choose just one favorite. i have 3 for each year that me and my s/o have been together, i have two that are of our dog, from when we got her as a puppy. i one for each of our careers, which i will be finishing his soon, he retires after tomorrow. i have one for the scrapbook weekend retreat my daughter and i attended, and i did an 8x8 of christmas 2008, since it was the first time back to texas in 2 years, but i have many pages to do that will go in my personal scrapbook. i'll be working on a chipboard book of my granddaughter, she was born in feb last year and i finally got to see her at christmas. and of course i'll be starting a new one of us for 2009. so although i have many favrite layouts, it's hard to choose my favorite book.

• Denmark
23 Dec 08
My favourite scrapbook is the one I made about my stay in Estonia. I am very happy that I have made that one, because it was an important time in my life. I have lived abroad a number of times and I always collect material to put in my scrapbooks, but the problem is, I don't always manage the make a scrapbook when I get home. Sometimes I just keep the material and decide to finish it later on. That has happened with many of my trips, but my scrapbook about Estonia has been completed, and I am very happy that I managed to finish it.

• United States
18 Jan 09
I don't create my scrapbooks right away when I get home either. I finally finished my 2001 Hawaii trip scrapbook this past year (7 years later) and have started working on my 2004 Ireland trip scrapbook - my goal is to complete that this year. It is hard for me to find a long window of time to sit down and scrapbook. When I actually do sit down to scrapbook, I don't want to be interrupted because then my creative ideas might be ruined. Congrats on completing your scrapbook! Thanks for responding!

• United States
21 Dec 08
Hey ya Mindym. I do have a scrapbook but it's not completed. I got it as a Christmas gift about 5 years ago from my grandmother. She put old pictures in it from when I was a child and of her and my family at various times of their lives.I had lost contact for several years and that was her way of catching up.lol