Do you have an old-fashioned kitchen clothes drier?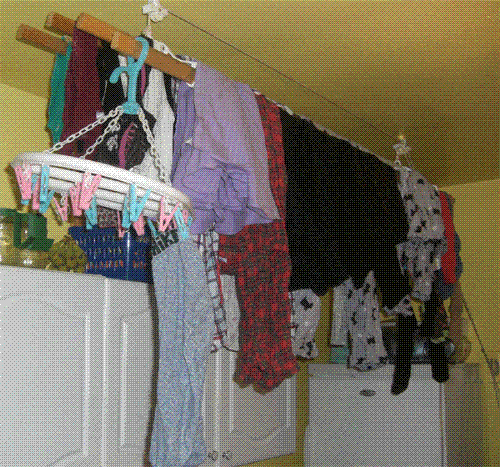 December 20, 2008 7:56am CST
In England these were all the rage in Victorian and later times. Wet washing is hung on a rack near the kitchen ceiling where heat rising from the stove and maybe the central heating dries the clothes without the additional expense of say, a tumble drier. Therefore they are an economic alternative, and good when the UK weather is wet as usual and clothes can't be hung out to dry. We had one in this house when we first moved in 24 years ago and we used it but later we had it taken out as it was 'old-fashioned'. A couple of years ago we saw the error of our ways and reinstated it after a search round for a suitable replacement. Now we wouldn't be without it. Any old fashioned gizmos or ideas coming back into your life? Perhaps you never stopped using them?
4 responses

•
20 Dec 08
Yes we had one in the house where I grew up in Yorkshire, dating from just after WW2. Our kitchen had an open fireplace, until my parents replaced it with an Aga solid fuel burning stove. Washing dried well on the rack, hanging above the stove. I can remember when my mother got her first twintub washing machine. I see that twintubs are also coming back, as they are more energy efficient than any of the automatic washer dryers. Also some people are starting to use pegs and washing lines, to hang out their washing, rather than using electricity to dry it in a machine.

•
6 Jan 09
I'd kill for some of the clothes airers which I discarded in the UK when I moved. I had some which clipped onto the back of doors and were a marvelous use of space. Right now I really struggle to dry clothes when the weather is miserable. I hate using the tumble drier.

• United States
20 Dec 08
Hi I know what you are talking about,I used to dry my jeans like that when I needed them really soon. That made all dried up and scratchy,though lol Can't think of any old gizmos but a lot of old ideas. For example,my mother taught me to freeze herbs myself instead of buying them all the time. Or using baking soda as cleaner and deodorizer,things like that. We didn't invent them but most people forget such simple solutions. Comes handy in times of recession:)