What firewall do you use for your computer?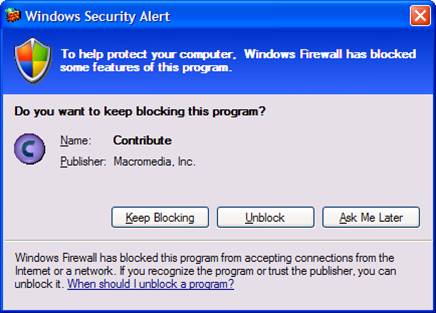 India
December 20, 2008 6:17pm CST
When we install operating system in our computer, the first things after the tour will be regarding windows update, firewall and anti virus. All i know is that the firewall protects the computer and apart from that i don't know anything about firewall. So, the Microsoft is providing firewall with the operating system and we put it on as recommended. But i heard some people uses different firewalls apart from the Microsoft one which comes along with the operating system. What i want to know is, what exactly does the firewall do as we use anti virus for virus protection and some anti malware too. I am technically poor so i want my fellow myloters to clear my doubts as you have always done in the past. And what are the other firewalls you would recommend if you are aware of it. Thank you all
10 responses

• Malaysia
21 Dec 08
As I commented on above respond, I think I don't have to tell you more than that. Okay, here it goes. I used COMODO Firewall Pro. It is easy to use, plus it have more options like, allow, block, treat as, and remember decision. It is, until one time, my laptop can not go with it and I changed to Online Armor. Online Armor is quite good. But I don't like the fact that it has less options than COMODO Firewall Pro. It have only Allow, and Block option. Then, since I reformatted my laptop 8 days ago, I turn back to COMODO product. Now I am using COMODO Internet Security. It has both Anti-virus and Firewall Pro configuration. It is working great and I am happy with it.

• Karachi, Pakistan
21 Dec 08
A firewall is an integrated collection of security measures designed to prevent unauthorized electronic access to a networked computer system. It is also a device or set of devices configured to permit, deny, encrypt, decrypt, or proxy all computer traffic between different security domains based upon a set of rules and other criteria. Function A firewall is a dedicated appliance, or software running on another computer, which inspects network traffic passing through it, and denies or permits passage based on a set of rules. A firewall's basic task is to regulate some of the flow of traffic between computer networks of different trust levels. Typical examples are the Internet which is a zone with no trust and an internal network which is a zone of higher trust. A zone with an intermediate trust level, situated between the Internet and a trusted internal network, is often referred to as a "perimeter network" or Demilitarized zone (DMZ). A firewall's function within a network is similar to physical firewalls with fire doors in building construction. In the former case, it is used to prevent network intrusion to the private network. In the latter case, it is intended to contain and delay structural fire from spreading to adjacent structures. Without proper configuration, a firewall can often become worthless. Standard security practices dictate a "default-deny" firewall ruleset, in which the only network connections which are allowed are the ones that have been explicitly allowed. Unfortunately, such a configuration requires detailed understanding of the network applications and endpoints required for the organization's day-to-day operation. Many businesses lack such understanding, and therefore implement a "default-allow" ruleset, in which all traffic is allowed unless it has been specifically blocked. This configuration makes inadvertent network connections and system compromise much more likely. I hope this will helps you have a nice dream.

• Malaysia
21 Dec 08
Allow me to say this. As far as I know, we can only activate one firewall at a time. So, if you are using another firewall, you need to set up which firewall do you really want to use, Windows's firewall of the one you install yourself. Have a nice day! :)



• India
21 Dec 08
yeah well i use Zone alarm for xp n just the vista firewall in vista with a norton one that is enuf thankfully happy lotting and have a nice day

• Philippines
21 Dec 08
Well I am using comodo and I can say that I have no problems at all this time..At the same time,I am using the windows firewall too to double the protection then it will be ok for me,,:-0 My antivirus is the latest of eset nod32....Thanks and god bless..:-0

• United States
21 Dec 08
my netgear router has 2 firewalls so its nearly impossible to get into my pc without being a true expert.

• India
21 Dec 08
I'm using the windows firewall and don't think I'll switch from it to others.

• Malaysia
21 Dec 08
I don't used any software firewall on my Windows OS. I also disable the built-in Windows firewall. On my Linux OS I use iptables. But I do used hardware firewall and currently I setup an old pc as a firewall by installing pfSense ( http://www.pfsense.com/ ).