do you attend reunions? why or why not?

Philippines
8 responses

• United States
21 Dec 08
I do not. I have absolutely no curiosity about whatever happened to people who were not important enough in my life for me to have kept track of outside of that milieu. You should have fun, though. Well, you can tell us here if you had a good time.

• Philippines
25 Dec 08
hi thanks. i will let you know... hehehe.. though i wish, i will have a great time, though.

• India
21 Dec 08
I like to attend reunions (most of mine have been informal ones) but unfortunately, I was unable to make it to two of mine held last year due to various personal reasons. I'm looking forward to the next one and hopefully, I can make it to that one. Most of those who attended the previous reunions kept me updated and I didn't really think I wasn't there...except for seeing them for real (I saw photographs)...and missed out on all the small little chit chats that we girls used to have.

• Philippines
21 Dec 08
since i've been away a lot and moved to another city, i haven't attended any reunions with my former classmates. due to constant traveling, it had always coincided with my flight schedules one way or another. on december 28th, i received an invitation for a get-together yet again, unfortunately it's also the day i would be taking my parents and an aunt on a flight south of the country where some of my siblings' families are. however much i would love to, my family or work would always come first. :)

• Philippines
25 Dec 08
hey there. thanks for the reply. happy holidays

• United States
22 Dec 08
I'm curious as well. I didn't hear of any reunion happening. I've been so out of the loop. Have fun.

• Philippines
25 Dec 08
hi there. well on december 27, it's gonna be on 888. well, i have not attended for a long time... and another close friend has said that she will go..so i am going. happy mylotitng. merry merry Christmas!!!


• Philippines
25 Dec 08
hi there. thanks for the response. when was the last time u attended one?

• India
21 Dec 08
This year for me has been one of reunions. In Jan i had two of them. In the first one seven old collegemates gathered at my house and we had a great time. Then towards the end of the same month my old schoolmates whom we had not met each other for the last 46 years once again met at my place. Then in Nov my old office friends met after twenty years at my place and this month one of my old schoolmates came to our city from USA and we again had a party at my house. Now another school class mate will be coming in Jan 2009 and another get-together is slated at my house. We are also expecting another schoolfriend in Feb-Mar whom we will be meeting after 46 years to come from Canada so once more there will be another party at my place.

• United States
21 Dec 08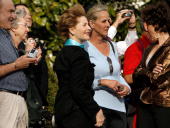 Hi my friend,

Our high school class has held 10 and 20 year reunions, neither of which I attended. For one reason, I only had a couple friends at that Catholic high class school. Also, the reunions either consisted of an afternoon gossip session with the girls, then a dance at a highly expensive hotel, or other things I really wasn't interested in. Happy MyLotting! Char


• Philippines
30 Aug 09
With my high school class, only during homecoming. The unofficial one, it's either I am disinterested or unaware. As for a college reunion, never. Nobody is interested, and neither am I. LOL!