what do you think about the 007 - Daniel Craig?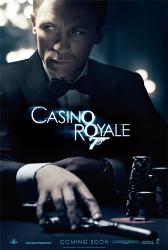 India
November 8, 2006 1:29pm CST
i heard that many bond fans are against him . i dont like him too. sean connrey and pierce brosnan are my fav.
5 responses


• India
9 Nov 06
ya there is no match for connery . in the movies he lived the characters.

• United States
8 Nov 06
I will have to see the movie first but no one is better than Connrey or Brosnan. I don't think he fits the part mainly because he is blond. I can't remember a James Bond who wasn't dark headed. They just have a sense of elegance and class that I am not seeing with this new one.

• Beaver Dam, Wisconsin
8 Nov 06
I'm willing to give him a chance. I don't think I like the fact they are remaking a film rather than coming up with a new one.

• India
8 Nov 06
ya we got to watch the movie to rate him. but in appearence hez not even a match for pierce.

• Canada
9 Nov 06
it's just weird how he's a blond. I'm not used to the idea of a blond Bond right now.