Paw Prints/Path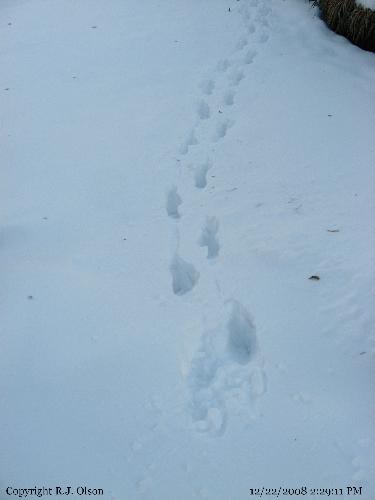 United States
December 22, 2008 3:31pm CST
Buster was just outside after some fresh snow had fallen yesterday. I love seeing the path he runs around when outside. With the snow this is easily done from his pawprints/path in the snow. This are is about 10 inches deep right now and he looks hilarious trying to jump high enough so as not to touch the snow fully. It can't be done but he sure tries his best. Anyhow do you love seeing critters prints in fresh snow? Do you know all the critters in your area by their pawprints? So far I've seen rabbit, squirrel, racoon and a lot of bird tracks in my snowy yards. HAPPY HOLIDAYS FROM GRANDPA BOB !!~
8 responses

• United States
22 Dec 08
When we had our big snow it was so funny. I wouldn't let anyone walk on the snow in the front until my daughter, son in law and grandson got here so they could see how pretty it was here. My oldest granddaughter was here and she did go out in the back yard. My cat did leave some prints out in the back yard.

• United States
22 Dec 08
I oloe when the grandkids visit. The boys leave their tracks all over in areas they normally won't walk as well. Too cute. Buster wasn't going fast when he made these tracks. He was actually jumping up in the air as the snow rubs against his belly now it's so deep. HAPPY HOLIDAYS FROM GRANDPA BOB !!~

• United States
23 Dec 08
Yes it is cool. But the one's I don't like are the squirrel's that end up going to my house. But Now I know where they go to get in. put up chicken wire keeps them out. So was useful for once

Got them squirrles out of my house. Your friend onlydia

• United Kingdom
22 Dec 08
Well my cousin the fox certainly does the rounds and I don't need to see his paw prints to know that he comes around for his regular take away, he's very mangy looking bless him. I would love to see a racoon my friend, we don't have racoons in our country, they are cute. It's lovely to see animal prints in the snow, but as you know we seldom get the snow, but I think I should be grateful of that Grandpa Bob!

• United States
22 Dec 08
Up at the afarm 150 miles north I've seen fox, wolves and many other wild animal tracks. We even had a red fox that was slightly injured and we fed daily for a summer as well. It stopped coming around and we feared it was hit by a car or taken out due to it being injured etc. I had sat out with the DNR watching wolves as they did a count for research etc. HAPPY HOLIDAYS FROM GRANDPA BOB !!~

•
22 Dec 08
We do not get that much snow in England to be able to tell.Mind you it is pretty bad up in Scotland and up North at the moment ,we are in the South East and we are pretty sheltered down here thank goodness,snow is pretty but like I said before the schools shut and the trains stop running the only ones that benefit are the kids and people like me who don't have to go anywhere,take care and Buster will have to get some boots bless him.Give him a cuddle from me.x

• United States
28 Dec 08
Buster surely loves the white stuff dosn't he?

that's cool. I can't wait to get my siberian husky puppy and watch him next winter run through the snow and leave paw prints. The only prints I have seen this year is bird prints I really haven't gone deep into the woods here to check for any other prints but would like to before winter is through

.

• Defiance, Ohio
28 Dec 08
No, I do not recongize all the c ritter prints in my area. I have not lived in this area but a few years. I have not seen many tracks.