Franken en route to a bogus win thanks to a biased canvassing board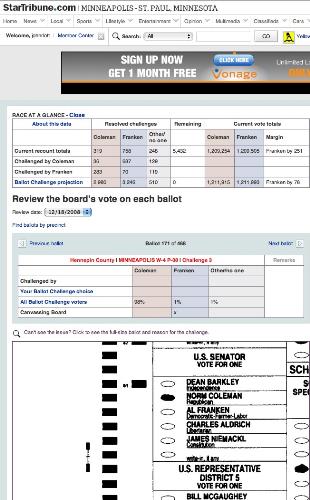 United States
December 22, 2008 10:09pm CST
Well the canvassing board is now making it their mission to elect Al Franken by "divining" the will of voters in Michigan. They are actively taking votes away from Norm Coleman based on boxes that are filled in too much, or ballots where the vote is clearly for Coleman, but the rest of the ballot has votes for democrats. Sadly, the same standard does not apply for votes they are giving to Al Franken. This is disgusting and someone needs to step in before this canvassing board ruins what should have been an honest recount. http://johnrlott.tripod.com/other/ColemansXs.html http://johnrlott.tripod.com/other/FrankensXs.html The Star Tribune in Minneapolis has done an excellent job of exposing their bias by showing the challenged ballots and showing how the people they polled viewed the ballot versus the decision by the canvassing board. There are ballots where 95% - 98% thought the vote was for Coleman yet it was called a non vote or in the case of one 98% it was given as a vote to Franken. http://senaterecount.startribune.com/ballots/index.php?review_date=2008-12-16&index=28 Meanwhile, they were more than happy to give a vote to Franken where a person made a circle BETWEEN the two candidates and 63% of the people polled said it was a non-vote. http://senaterecount.startribune.com/ballots/index.php?review_date=2008-12-18&index=360 Someone really needs to do a review of this canvassing board and figure out what the he!l is going on here.
4 responses

• United States
24 Dec 08
I am sure that the this election will be investigated, and any wrong doing will be exposed. I have heard stories like this for over a month now, and I have also heard stories about Coleman's people doing the same. It is a he said, she said cluster right now, and someone needs to step up and finish it.

• United States
24 Dec 08
The problems right now aren't really Franken or Coleman. It's the canvassing board that's doing this. I looked at the challenged ballots from both sides. Both Coleman and Franken have challenged ballots where the intent is clearly for their opponent. The problem is that the canvassing board has used inconsistent standards and are clearly making choices that are more beneficial to Franken. They need clear and documented standards to avoid these problems. The decisions they're making right now are far worse than what went on in Florida in 2000.

• United States
26 Dec 08
That is a good point, I was just looking at this in terms of election problems. Not the total destruction of the country that has happened under Bush. I think that the Bush term should be a great example of why we should get rid of the electorial college. It is sad that we want to spread democracy throughout the world, but what country wants a form of government where the vast majority of people vote for someoene, and they lose?


• United States
23 Dec 08
I think it should be up to the voters of Minnesota to get to the bottom of this and I sincerely hope they do. Those examples you linked to were pretty damning in their inconsistency but are they all that way? Is only one member of the board examining each ballot or all they all looking at every one. The latter would seem to be the only fair way since it is a judgment call. I heard today the current count is 48+ for Franken but it's far from over. All I know is we need a better system all across this nation. Every time we have an election like this one, where there is so much controversy and accusations of wrongdoing from both sides we lose a few more voters because people doubt their own vote will count. It's wrong no matter which side wins or loses. I want my vote to count but I also want YOUR vote to count, Taskr, even though I know we'll cancel each other out most of the time...lol! Annie

• United States
23 Dec 08
Absolutely. Unfortunately, this is looking to be worse than the issues in Florida in 2000. If you'll recall, there were arguments over punched, swinging, and hanging chads and which should be counted. Now we're dealing with ballots that are being called no votes if a bubble is filled with an x through it, some where it is a vote when it's filled with an x through it, some where it's a vote if there is just an x through it, etc. Seriously, how much simpler can it get than filling in a freaking circle? The issue though is still similar to Florida though. Decide which standards should be used, put it in the manual, and use those same standards EVERYWHERE (in that state). Inconsistency like this will lead to either candidate having an asterisk next to their name regardless of who wins.

• United States
24 Dec 08
When people were questioning the voters that ACORN registered earlier this year the Sect. of State said that he would not investigate the registrations because of a few that were filled out with wrong address or different forms of the names. There were not enough to make a difference. The number was around 6000 registrations out of 50 or 60 thousand that ACORN processed. ACORN came out of Chicago and you can see the finger prints all over this election. A poll worker "discovers" a sack of ballots in her car that were not counted on election day and 90% are for Frankin. The votes called in the day after the election showed more votes for Frankin than were counted the night before and the report from the machine which is reported at the end of the night is dated 3 days before the election. I have heard that Senator Reid has indicated that he will not allow any Senator from MN to be seated except Al Frankin. What we need is new blood running the country. I say vote every incumbent out of office and keep doing it. Give them one term to serve and make their mark and then get a real job.

• United States
24 Dec 08
Things like these get way too blown up. Sore losers push and push and push until they receive a biased recount that gives them votes for any "inconsistent" ballot, yet discards opposite votes if there appears to be no inconsistencies. One good thing about 2000: The Court called it quits before another team of left-wingers showed up in their Gore-paint and attempted to discredit every Bush ballot with a bent corner. Truthfully, it's a win-win for liberals, no matter what. If Franken wins, voila, another mindless minion to throw a vote their way. If he loses, voila, the liberal networks get to blame dirty neo-cons and their election stealing ways. The only real thing that surprises me is the public buys into it. It's this pure selfishness by candidates that should instantly show that they ARE NOT fit to be public servants. Whatever happened to gracefully bowing out? By the time this is over, either candidate's name will be mudd when they take seat. I'm disgusted with anything like this. Let the people vote again on live TV -- get Oprah to cover it.

• United States
23 Dec 08
What can you expect when the Sectary of State was funded by George Sores and with voter registration by ACORN. It seems that in close races the Democrats are better theifs. On the news they today they can not find 131 votes for Frankin that were reported on election night but they want to count them anyway. It will be a court challenge.