Did you take a before picture?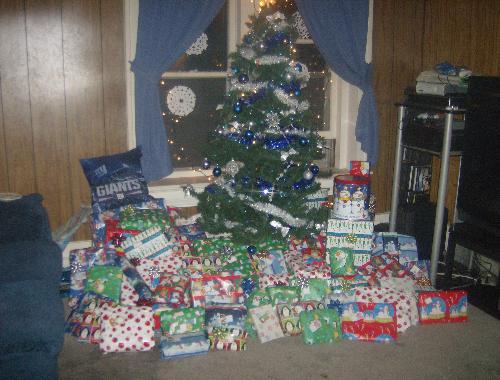 United States
December 26, 2008 8:10am CST
Do you take a picture of your tree with all the gifts under it before everyone wakes up and opens them? We do every year, and I must say, this was our best year so far! Here's my before picture... if you have one, share it here please! I love seeing trees with presents under them!
4 responses


• United States
26 Dec 08
I didn't do it all at once, I spread it out over a few weeks actually. A little bit each day as I had time. It helped get me in the spirit and get me excited.

• United States
26 Dec 08
I actually didn't think about taking a before picture. I should have. The kids were just so excited to open presents we barely could hold them off till I got the camera and daddy got his coffee. I'll have to remember that for next year though. I can't believe it is over already.

• United States
26 Dec 08
We took our before picture before we went to bed the night before. After we put all the gifts under the tree, we snapped the pic and sat and enjoyed it for a minute before heading off to bed. That's what we usually do. In the morning we let the kids have at their stockings first. Hubby and I will sit and have a smoke and a drink while the kids destroy their stocking stuffers, then we gather in the living room and start opening gifts.


•
26 Dec 08
Yes I do, I always take before photos after santa has delivered, I cannot put the pic on though as it is still on my camera, not had chance to upload them as this is the first time I have been on the computer since christmas eve!!