Tornadoes and Bad Weather today In Mid-Missouri! GGEEZZ!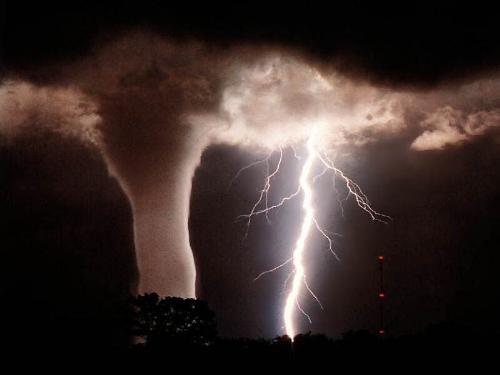 United States
December 27, 2008 10:51am CST
Good grief! Tis a bumpy weather day here in Mid-Missouri, they've had tornado warnings out for a long time this morning; The weather man on my local station called them "tiny tornado's " popping up , developing, touching down and then dissipating... **snort ** Tiny tornado's Never heard of it put that way have you? My County Audrain has been under the Tornado warning for over an hour now there was a "tiny one" their words not mine touched down in Thompson out in a field, that town is so small, if you blink when you drive through it, you miss it; Since its Saturday and kids would be watching cartoons they really are doing a great job of telling kids that might be home alone what to do in case there is a big nasty that will drop out of the sky; I swear we have the craziest Weather here, just got rid of the ice and snow, it warmed up yesterday to like 65 degree's and just like last year , we are having tornado warnings like it was suddenly springtime..( I wish it was spring) but I could do without the tornado's..(G)! I'm not worried, now if my Cat Minx starts to get scared and does her 'HOWLING YOWL that she does then I know for sure there is a big nasty up in the sky, she just freaks out... so what's the weather like where you live today in last days of December 2008???
2 responses

• United States
27 Dec 08
We've had snow here in Southern Oregon. But it is supposed to warm up into the 40's today and melt much of the snow at the lower elevations. The mountains are supposed to get more snow though. It has been crazy so far this winter. I lived in the mid-west for a while and hated the tornados. I hope none touch down where you or your family are. Keep us posted.

• United States
27 Dec 08
Yes, the weather is FREAKY here! It was SO nice yesterday! 65 degrees is AWESOME! And then the thunderstorms and the tornado watches started happening! It was SO freaky last night! I could HEAR the wind blowing up gusts! But there wasn't really any heavy rain until this morning. And oh, it was heavy rain! *is scared* And now it's stopped. But it just looks so bleak outside. I think it may come back later.

It's freaky. It was SO nice to have a nice day after we JUST got rid of the snow and ice, like you said. It actually feels good outside, like springtime. But, YUCK, I hear thunder again!

I better go!

• United States
27 Dec 08
Hi Stanley; Are you here in Missouri or another state close by?? Yeah we've got flood watches and warnings out now we've had so much rain last night and this morning already; Its so dark outside all the security lights and automatic porch lights are on; its mid morning, my time now is 11:05 a.m. so you know there are plenty of storms all around here to be this dark in the morning time, in fact I could go back to bed right now I love to sleep when its stormy outside, I'm crazy I know??