what did you do this weekend to enjoy it?

United States
December 28, 2008 1:05pm CST
this weekend its been rainy where i live and i haven't been able to get out and do a lot because honestly i was broke from buying christmas presents and i didn't really have a lot of money to go out and do anything, but i did hang around and spend some time with my family and my girlfriend,i really did enjoy that quiet honestly, and i had a lot of fun sitting around and watching television and movies and such, so what about all of you, what did you do this weekend to enjoy it? i would like to take this time to thank everyone for taking the time out of your day to come by and read and review my discussion and hopefully answering, and trying to help me, and i hope that you all have a great day and night tonight, thanks again for taking the time to stop by.
11 responses

• Philippines
30 Dec 08
Hello jhl930! My boyfriend and I spent the weekend playing with my dog. Walking the dog too. We spend much time taking my dog out for a walk. My boyfriend and I also spent some time at the mall this weekend. We bought some stuffs. I spent the evening watching TV with my younger sister. Sunday was not as fun as Saturday during this last weekend but overall, okay.

• United States
30 Dec 08
On Friday, I went after Christmas shopping which I really enjoyed. On Sunday, I came home to my house which is always helpful to my psyche. I love my parents, but anything more than 72 hours with them is a little much. I only do that every six months. My sanity wouldn't take much more.

• United States
29 Dec 08
Well, Saturday I had to work and then we went out and got dinner and exchanged some stuff I needed to exchange, and then we went and spent our Gift Card we had bought and came home. Sunday we had Church in the morning and had an awesome time, and then we just came home cooked a nice Turkey dinner and the works and had a nice relaxing evening at home. It was just my husband and I but it was nice to just have some us time without having to worry about the hussle and bustle of the holidays and everything else around it.



• Philippines
29 Dec 08
hi there

i was tired from all the christmas rush i did so i took the break i deserved

i did not open my computer the whole weekend and watched season 1 of Gossip Girl and season 2 of Heroes with my husband instead. i have always been a couch potato deep inside but have not been one for a long time (because i am too busy when i got married) LOL! have a nice day!

• Philippines
29 Dec 08
Hi There! My friend and I went to "river park" around Saturday midnight. I was bored so right after my shift ends, we met. I kinda enjoy it... the River park is like a bargain sale then it has this little amusement rides for kids... They have foods as well. We didn't buy anything since we don't feel like shopping at that time so we just looked around then check out some rides there... Oh, we eat eat eat.... hahaha.... I love their grilled corn! Yummmy! We went home at around three in the morning. I don't usually go out like that but it's really nice that once in a while to just go out with a friend. lolz... I slept the whole Saturday afternoon, then, my sister and I went to see a movie that she liked. :) Sunday?? Uhmmm... I chatted with my boyfriend... hahaha... then sleeps... Happy Holidays! Cheers! And Happy Mylotting!

• Philippines
29 Dec 08
I attended my high school reunion on Saturday, it was really fun. Then on Sunday, I woke up early to go to church and then went straight to work. After working, i went out to find a birthday gift for my friend. I was really tired that I slept before 9pm and I woke up at 6:30am today. I still feel sleepy today but I have to work.

• China
29 Dec 08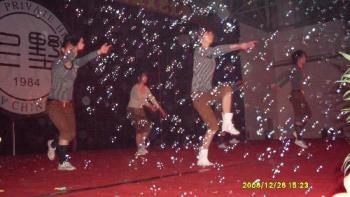 Hello jhl. Well, we were working on weekend without having a rest due to our special and unique schedule of the school, but I am very happy to have seen the school's performance by the students in celebration of the New Year yesterday afternoon with a lot of fun. Here is a photo I took at the performance for you to enjoy. Good day and Happy New Year to you, friend.

• India
29 Dec 08
hi my dear friends, weekends are very important to me since I am working in a corporate jungle and we get dogtired easily with the amount of work we do. Therefore, I immaculately plan my weekends and see that I enjoy every moment on weekends. Saturday, I freak out and do all sorts of fun with my friends. we go out for a lunch and dinner and most of the day we roam around. Sunday is devoted my family. I enjoy staying back at home and then discussing about our personal issues. We chalk out plans on how we are progressing both financially and in other ways as well. This weekend has been so wonderful for me for I have my school mates come in and we went out all for a holy place . this is one weekend I thorougly enjoyed. cheerrs!!!!!!!!!!!!!!!!