Can you put a bundt cake in a regular cake pan?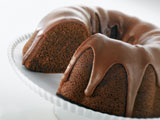 United States
December 28, 2008 7:21pm CST
I found a recipe on the Nestle website for a Mayan Chocolate Bundt Cake and it looks yummy (I love Mayan Chocolate) but I don't have a bundt pan. If you have a recipe that specifically calls for only a bundt pan, can you put it in a regular cake pan without a lot of trouble and if so, what size? The recipe doesn't specify a size but does say 12-16 servings, which makes me think 13x9 inch?
3 responses


• United States
29 Dec 08
I think you might be right. I have other recipes that say for this kind of pan bake this long, for that kind bake that long.... a bundt pan is probably just another pan with another bake time


• United States
29 Dec 08
I don't own a bundt pan either. I would say give it a whirl in the pan you do have and adjust the time like others have said because it won't be as thick. I bet you it's easier to judge if it's done in a regular pan anyways.