Who is your favorite character of the movie the Lord of the Rings?

Guangzhou, China
7 responses

• Singapore
30 Dec 08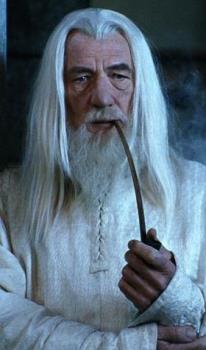 There is no one particular character I like. If I really have to choose, I would have chosen Gandulf. The grey, then later white, wizard. He has this really fatherly look about him that makes him feel, well, close. (qin qie). Other than that, there is really no particular character that is really lovable.

• Singapore
30 Dec 08
Yeah... that is what I though of as well. I keep wondering why they kill the character so early in the series. I guess it is the only way for him to be promoted to white wizard. It makes me wonder how many colors there are in the wizardary ranks. Grey is lower than white. Is there anything higher than white?

• Philippines
30 Dec 08
Gandalf is not a mortal just like man do. Gandalf as Tolkiens put it is something of a heavenly being. When they die, the Valars will call them to finish their mission and that is why they are regained. Gandalf is one of the Maiars of Valinor or should I say the lesser Ainurs who are directly related with Illuvatar or "The One". The character Gandalf is a representation of Odin who appears to be an old man in the Norse. Or should I say a sage just like in Kung Fu movies who trains some students. In his early age he was called Olorien. Then later on Gandalf the Grey. He was called as Stormcrow due to his meddling with affairs of other kingdom. And Mithrandir in Gondor. He was also called the white rider in conrast to the black wraiths.


• United Kingdom
30 Dec 08
Hello my friend! Well it's been ages since I have watched the films, I actually had the boxset of the three films but I gave them away, they are too long winded for me, and I find them boring and if truth be known the script is a little complicated. My favourite character would be the one played by Sean Bean, is it Boromir? I can't remember but I know Sean Bean played one of the leading characters.

• Philippines
30 Dec 08
Hello wolfie... Yes.. Sean Bean played the role of Boromir. And i do like Boromir. He is one of the two sons of Denethor, the steward of Gondor. The film is just simple, two hobbits on the road to destroy the ring. Now what is this with Rohan thing. Rohan is a kingdom in Middle Earth. They are the Horse bearers and since the forces of Sauron is concentrated in bringing the destruction of Gondor, the capital, Saruman is attacking Rohan with his own forces of Orcs. The good thing about this is that Rohan is just like UK in the Second World War. It is already overwhelmed with lots of german forces and constantly bombarded with Nazi Germany. While Tolkiens tells his readers that there is no depiction of reality in his book, nevertheless, you cannot deny the fact that a piece of real situation was being symbolized in the book. I do have the extended version and to tell you, it will take you 9 hours to watch the whole film. But I still watched them. and it is already my 10th time watching that film and i still want to watch it. The reason, every time i watched the film, it reignites the courage in me. That despite of our meekness just like the halflings or they call it the hobbits, we can still make a difference. And every time I saw the two sons of Denethor, Faramir and Boromir, and also Froddo and Sam, i canot help but admire tolkiens on how he have written those characters perfectly. They have their own conflicts same us with us but they have overcome it with the belief that they can do something with their mission.


• Philippines
30 Dec 08
Hi youless! Legolas for me! I just love him and the way he looks on that movie is very magical for me. I just wish he really looks like that off screen, with all that long golden white hair. haha...I definitely and totally agree with you--he is very handsome and look so cool!

Take care..and have a nice day! God Bless! lovelots..faith210

• China
31 Dec 08

Hello youless. I watched this movie when it came to the market, but I cannot remember the names of the characters in the movie. I think that it is a good movie. Many people like this movie out of the great performance of the actors.

• Philippines
31 Dec 08
hi, youless

i really liked Legolas because, aside from being cute LOL!, he is without any issue. he has a very strong character, no temptations, no love problems -- which could really be annoying sometimes. have a nice day!


• United States
31 Dec 08
I liked and felt sorry for Bilbo Baggins. I am looking forward to the Hobbit movie. It will get deeper into his character. And I hear Viggo Mortensen may reprise his role.

• United States
30 Dec 08
Legolas or Merry and Pippin. One of my favorite scenes is where Gimli is jumping up and down, trying to see over the castle wall and Legolas laughs at him and says "Would you like me to describe it to you or shall I get you a box?" I love the competition between Legolas and Gimli throughout all three movies. And Merry and Pippin are like the lost Stooges.