Strange animal facts?

United States
November 8, 2006 6:32pm CST
Know anything weird about an animal? Share it! I love knowing useless trivia facts lol. People might know this, but lemmings jump off cliffs into the water and try to swim across oceans until they drown. So in essense, they commit suicide. I'm probably getting this all wrong LOL. So correct me if I'm wrong?
9 responses


• United States
10 Nov 06
You're right, people can just switch genders nowadays. That didn't occur to me. I think the only time I don't want to be female is once a month (if you catch my drift lol). Actually, now that I think about it I'd want to be male when I go to buy a car from a dealership too, cuz males don't get screwed over as much as us women.

• India
11 Nov 06
Ostrich woe their female partners by building and cleaning the nest and then after all the hard work also dance. Female inspects everything before agreeing to mate. SHe mates lays the eggs and leaves him for other male soon after. Male takes care of the eggs and the kids thereafter. I would love to be an Ostrich female next life.any feminists reading this?

• United States
11 Nov 06
I think I know of a few female ostriches posing as humans! Just kidding really. But that sounds like the life for me, love 'em and leave 'em. Course I'd have to save that last one to care for me when I get old!

• United States
11 Nov 06
This is such a fun topic. I enjoy reading all the responses. Anyway, I decided to share facts about giraffes which have always fascinated me. 1. A male giraffe weights up to 4250 lbs and can be 18' tall to the top of his horns. 2. A male giraffe (bull) walks 22% of each day compared to 13% for a female (cow). The male's extra miles come from his searching for females in heat. 3. 50 -- 75% of giraffe calves fall prey to lions and hyenas. 4. Contrary to popular belief, giraffes are not silent. Calves bleat and mew. Mothers bellow. Courting males emit a raucous cough. Other sounds include alarm snorts, moaning, snoring, hissing, and flute-like noises.

• India
11 Nov 06
1. IF LIZARDS ARE IN DANGER THEY SHED OF THIER TAILS AND GOD HAS GIVEN THEM THE GIFT OF REBUILDING THE TAIL AND WITHIN SOME TIME THEY LOOK AS THEY LOOKED PREVIOUSLY. WHY HAS GOD NOT GIVEN THIS GIFT TO HUMAN.(HE KNOWS WE WILL USE IT IN A WRONG WAY) 2. A CUCKOO LAYS HER EGGS IN THE NEST OF A CROW AND THE CROW HATCH AND LOOK AFTER THE YOUNG ONE. WHY DO WOMEN HATE THEIR STEP CHILDREN

• India
11 Nov 06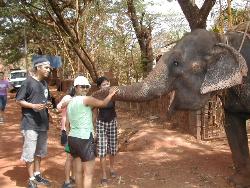 Do you know the difference between an australian dingo and a normal dog?? A dingo mates just once a year and does not bark. really...

• United States
11 Nov 06
i know one about hedgehogs...lol. they self annoit themselves...will lean their heads over their shoulders and make frothy looking spit and spit it onto their quills...(they say its because of predators hoping it is poision and will scare of things that want to eat them) our hedgehog is so adorable when he does this..one time he ate a tums and he had frothy pink foam all over him lol



• United States
11 Nov 06
i know one about hedgehogs...lol. they self annoit themselves...will lean their heads over their shoulders and make frothy looking spit and spit it onto their quills...(they say its because of predators hoping it is poision and will scare of things that want to eat them) our hedgehog is so adorable when he does this..one time he ate a tums and he had frothy pink foam all over him lol