is it alright to use washing machine?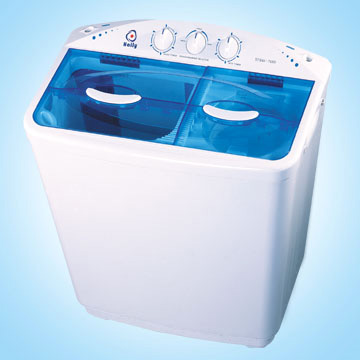 Philippines
January 1, 2009 1:54am CST

i am a single person living in an apartment of nine. i also teach at school and at the same time is studying. i am now on my very last term. and i planned to graduate this march. being in the work, makes me really busy. there are times that my clothes are not being washed for about two weeks. and there was a time that i really tried to wash it and i was finished at night. then after that, i was sick. really sick that i was not able to wash it all.. huhu.. and now, in this new year, i hope to really make good with washing. i planned of hiring somebody to wash it, but it costs. and i find it really a discipline to be washing your own clothes, but i will really be working now.. i thought of buying a washing machine or purchasing one, but i don't think it is a good idea. well at least, it would wash up the big or huge clothes like the pillows and other huge clothes.. do you think it is alright to be using washing machine?.. i would be saving time if possible.. but would it?...
3 responses

• Malaysia
1 Jan 09
I don't see why it is not alright to use a washing machine, in my case, I can't quite imagine living without one. Washing machines costs, but I think it is worth it as you can save not just time but also energy (it's really tiring to wash jeans, and other large thick material which sometime or later must get washed). Technology is there to help us live better, well, I don't think we should rely on it too much but the washing machine works miracles and free you from house chores which I consider heavy. Maybe you think it is more diciplined to have clothes hand washed but I don't see the true meaning of such dicipline. Why should we be diciplined that way? I believe washing your own clothes mean becoming independent, but it doesn't matter how you wash it.

• Philippines
2 Jan 09
you have a point there my friend.. and i think i really need one. i already told my mother about it, and it happened that we have one at home. she will give it to me when she has the time. but in my point of view, when we do the handwashing of our clothes we are being disciplined.. we are not to be dependent on the present technologies we have this time. what will you do when this technology is no longer available. well then, that is just one probability.. but thank you..


• Philippines
2 Jan 09
thanks a lot.. really, it would be alot way to save time and energy. but i don' think it will save water too.. hehe, it dpeends on how it is to be used. well anyways, i don't have the means to buy me one either. so i just hope there will be a miracle and someone would just give me.. hahai.. who could that be..

• India
1 Jan 09
I cant live without my washing machine so I think you know my answer. It's one of the four most important gadgets in my home, alongiwth the gas stove, the refrigerator and the water purifier. The machine washes everything, from the curtains to bed sheets to everyday clothes. I don't know what I would have done without my washing machine.

• Philippines
2 Jan 09
nice one. how i wish i could have one too. but i just don't have the means. now.. i just hope i could have one this year.. can you lend me?..thanks