Got a Nikon D90 and I cant' stop shooting:)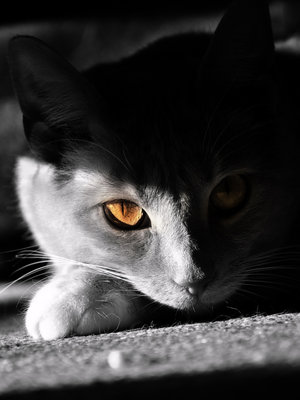 Canada
January 1, 2009 2:46pm CST
Here is an example of one of the many photos I've been taking. Along with a new puppy this should be tons of fun. This photo is of my darling cat as she watches over me:) Let me know your thoughts. I'm still trying to get the hang of it slowly but surly.
3 responses


• Canada
4 Jan 09
Love the videos it does! :) You have 3 of them! my gosh! I wish I had that kind of money ;) Hopefully this will end up paying for it's self. I have recently done a rose collection. I'll post one of them. Hope all is going well hun thanks for the support :)

• United States
4 Jan 09
I used my earnings from selling stock photography to pay for the D70 (which I bought used) and the D300 (which I bought new). The D50 was a Christmas gift from my parents, which they bought used. I will be converting that camera to infrared.

• Canada
4 Jan 09
See I did stock photography for a year and didn't sell one dime. Mind telling me how you did it?


• Philippines
18 Jan 09
yeah the D90 is great i wish i have the cash... but hay just share your photo to us ok... i wish to see more of them here...

• Philippines
5 Jan 09
Really good shot of your cat! I really like it! That's a really nice camera you have there! I am using a Pentax camera but I've been thinking about shifting to Nikon or Canon. I'm looking into the D90 because I've heard great feedback about it. Continue shooting!