The look on her face that morning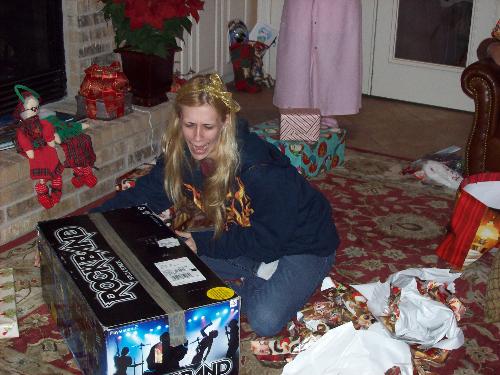 United States
January 3, 2009 10:49am CST
I love my daughter dearly and had really dreaded the approach of Christmas since our budget had gotten so tight in 2008. I already had to tell her that there wouldn't be much in the way of Christmas presents and was relieved that she understood, but I still felt awful about not getting her something nice as we have always been able to do in the past. With hubbys layoff and me just starting a new job it was just impossible to stretch the money we had. Well a few days before Christmas, the company I work for gave out gifts to the employees. I don't know if they were trying to make up for the fact that we wouldn't be getting paid until the day after Christmas or not but I sure was glad that I was one of 16 people that got a really nice gift because I knew it would make my daughters Christmas one to remember afterall. I'm attaching the picture I took of my daughter Christmas morning when she opened the Rock Band game. The look on her face was all I could ask for and really warmed my heart, even though it's one of her least favorites of the Christmas pictures I took.

I know she had been looking at the box strangely and probably thought it was one of the times I had made a small present look bigger by putting a box in a box, in a box, in a box, but Not this time. Thanks to my company she actually got what she had been wanting for several months even though she had probably already given up any hope of getting it for Christmas.

8 responses

• Gold Coast, Australia
5 Jan 09
The expression on your daughter's face says it all! She is so excited! And because of the generosity of your company, she got what she wanted thanks to them. No wonder you love this photo of her. I'm glad she had a great Christmas after all.

• United States
6 Jan 09
LOL, she hates it when I show people the pic on my camera. She knows I'm going to zoom in so they can see a close up of her face but it really does show just how excited she was. I was so happy I didn't have to disappoint her.


• St. Catharines, Ontario
6 Jan 09
I think the fact that she had already resigned herself to not getting it added to her joy and excitement when she opened the box.

• United States
3 Jan 09
That's priceless, and I am sure it did warm your heart. When you said rockband I was thinking just the game (like in a box?) but not that.. then again I don't know that much about rockband...

• United States
6 Jan 09
To tell you the truth I didn't either, other than knowing that was the one she wanted next. We had gotten her Guitar Hero a few years ago and she still loves playing that one. Rock Band comes with the guitar, drums and a microphone so it actually allows more than one player at a time and even lets her plug in the other guitar so when she has friends over they can all play at the same time. Needless to say she had friends over Christmas weekend.


•
3 Jan 09
What a good girl she is, most kids understand the situation.I think it is our worry more than theirs we worry about letting them down,but from what I can gather from your discussion she loves you and letting her down is never going to happen as far as she is concerned ,you are her world and thats all that matters.It sounds corny but that is the most important thing in life and you have taught her well.

• United States
6 Jan 09
Thanks suzzy3. I have always made it a point to discuss things with her and to be as honest as possible so she can understand when things don't always go as planned. If it hadn't been for this unexpected prize, I think the pair of pink fuzzy socks I had gotten her really would have been disappointing no matter how much she understood.




• United States
6 Jan 09
Me too. When I brought it home that night I had the biggest smile on my face while trying to figure out how to get it into the house without her seeing it. LOL, I had to send her to her room after telling her she was NOT in trouble. You should have seen THAT look.


• United States
13 Jan 09
That's so wonderful! That employer is a keeper, and the priceless look on your daughter's face seems worth the stress you experienced before Christmas. Great story!

• United States
14 Jan 09
Thanks fireheart99. The timing couldn't have been better. It's made it much easier to look kindly on my employers and more determined to stay.



• United States
14 Jan 09
I really was very grateful that I got it when I did because it made a world of difference to my daughter's Christmas morning.


• St. Catharines, Ontario
3 Jan 09
Wow! Where do you work? That's a far cry from a frozen turkey or box of chocolates most places give out.

• United States
6 Jan 09
I'm still working for the same company but they transferred me out of the survey department. From what I understand they do this quite often to keep morale up. I just didn't expect something SO nice SO soon after being transferred to the customer service department. It really did make my year end on a much happier note.