Feel the warmth. A new years photo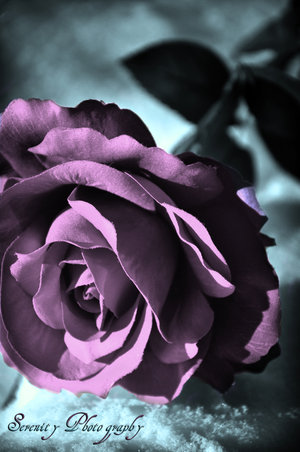 Canada
4 responses

• Australia
4 Jan 09
One of your best! Lovely work, both in the camera and afterwards.

• Canada
4 Jan 09
David many thanks darlin. I appreciate you noticing the camera and 'after effects' work I like it when people are able to see what both a camera can do but what photoshop or other applications can do to give it an art feel. I have other variations of this rose along with it's original on my deviant art site. if you'd like to see them please feel free. http://serenityfhotography.deviantart.com/gallery/

• Australia
4 Jan 09
Nice! I particularly like the "Never 'just' a Rose" variation. I see you have discovered the flood filter... keep it subtle and it is a wonderful toy/tool. Thinking about your discussion with Lindsay: the 18-105 is a very versatile lens, but I think you might be disappointed with a 70-300mm; in effect it would be a 105-300mm (th overlap with your current lens) but to get one of similar quality would be costly (there are plenty of cheap ones about, but is that what you want for your art?). The better options might be to hold off for a prime telephoto (non-zoom) which would give better quality at a lower price; to opt for a longer zoom range (150-400, 120-500) with image stabilization, or a complete replacement for your present lens. I carry 2 DSLRs when I am working: on one I have a 28-300mm left over from my film days (effectively 35-480mm) and on the second, an 18-270mm optically stabilized lens (equivalent to 28-430mm). The wider short-end more than compensates for the small loss at the tele end (and I carry a 150-500 OS when the 300 isn't enough). With current prices as they are, Holding off for the stabilized 18-270mm or cheaper 18-250mm might be worth considering, especially since these lenses focus down to 18 inches or less right throughout their range, giving 1:3 magnification. That really enhances the value of your close-up lenses!


• United States
4 Jan 09
Glad to hear you're enjoying your new camera! Are there any lenses, filters, speedlights or other accessories you're planning on getting for your camera?

• Canada
4 Jan 09
as of right now no.. simply because i want to get used to what I have now before adding and overwhelming the learning curve. :) Any suggestions for when I do?

• United States
4 Jan 09
What size lens are you using now? You will definitely want a main "walkaround" lens that will be the lens that stays on your camera most of the time. This should be a versatile lens with a wide range of zoom. I personally use a 28-300mm, but some photographers prefer an 18-200mm or a 70-300mm. I noticed you take a lot of floral photography. You will probably want a good macro lens then. When it comes to macro lenses, you'll want one with 1:1 ratio, which is considered "true macro". I would also recommend a good wide angle lens. If you're interested in sports or wildlife at all, you will definitely want to get yourself a good telephoto lens! I personally enjoy special effect lenses. I enjoy fisheye lenses and Lensbaby selective focus lenses. Those would be especially fun to use when shooting video! As far as filters go, you should definitely invest in a circular polarizer. If you only get one filter, that is the one you should get! As for other filters, it depends on the type of photography you want to shoot. For example, if you don't want to spend the money on a macro lens, you may want to get a set of close-up filters that produce the same effect as a macro lens. If you're interested in landscape photography, I would recommend ND filters and gradual color filters. If you're interested in infrared photography, you will obviously want to get yourself an infrared filter. You should also invest in a good speedlight. I use an SB-800, but the SB-600 and SB-900 are also both fantastic flashes! If you have any questions, feel free to ask! I'm more than happy to help!

• Canada
4 Jan 09
Oh wow I'm going to copy that and past it on a note pad. Thank you. From what you said I have one filter I forgot to talk about. It's called a haze filter kind of a UV filter and I keep it on the camera to help out with the lens. I only have a 18-105mm lens. Which I will invest in another lens probably the 70-300mm. Pending on my money situation. macro filters I'll invest in right now because of liking the flowers ;). Again thank you for that advice it's greatly appreciated.


• Canada
5 Jan 09
I just got a Nikon D90 if it didn't take this quality I'd take it back lol.