Would you like to stick pins in a map of the world?

United Kingdom
January 4, 2009 8:10am CST
I saw a world map on the wall and my colleague had put pins in the map to show all the places that she has been to. I have a idea a person could put yellow pins to show where the have been on the map already and green pins to show where they want to go in the future. I have been to the USA, one country in the Caribbean, three countries in Central America, lots of countries in Europe, eight countries in Asia, three countries in Africa and six countries in Australasia. Would you like to stick pins in a map of the world? Either where would your yellow(been there) pins or your green (want to go there) pins go?
6 responses

• Guangzhou, China
4 Jan 09
I have a big world map in Chinese and English in my livingroom. Sometimes I like to tell my son about the countries from the map. I am glad that he has learned some from it. I don't have any pins on the map as it may not be totally safe when I have a child:) I love China




• China
7 Jan 09
Hello youless. Glad to read your response here on the same page of the same topic. I think that it is a good way for you to teach your son some knowledge on geography with the help of the map of the world in your living room. It is a good idea to instill him with some geographical knowledge when he is a little boy. It was the same with me. Now my son has a good sense of geography. Good day, youless.

• South Korea
4 Jan 09
wow.maxima...well its a good idea, to put pins an i think its colorful and interesting..have a nice day

• China
7 Jan 09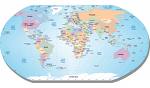 Hello maximax. I think that it is a good idea to stick pins in a map of the world to remind you of the places where you have been to. I have two maps of the world, one of which is in my living room and the other in my office. I love to read the places on the map very much.

• Germany
4 Jan 09
my husband do that in his office.he put pins the country where he has been there already and favorites.

•
4 Jan 09
Hi maximax8, I would rather do that with the map of England, because I would love to go visiting place here that I have never been . Tamara

•
4 Jan 09
I have a map on my facebook profile where it sticks pins in with different colours for where I've been and where I will be going. I don't think I'd have one in my home because of having the dogs in case any fell on the floor but, I do have a 'picture' wall where I have a big clip frame that I hang a picture from each trip I go on so it's obvious where it was - for example in Florida on my work trip I have a picture of myself in front of the Universal globe. I hope one day it is very full!