Ruby Tuesday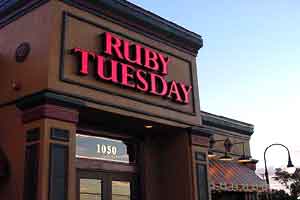 United States
January 4, 2009 9:33am CST
Well last night my husband and I went to eat at Ruby Tuesday for our anniversary. We wanted to go to applebees but it was way to packed so we went Ruby Tuesday instead. It was good. We both had a steak with brocolli and potatoes. A delicious salad. And our appetizer was hot wings. They were really hot. LOL. we were chugging down soda. It was good. It had been a long time since we had eaten there. Have you eaten at a Ruby Tuesday before?? When and how was the visit???
4 responses

• United States
4 Jan 09
Ruby Tuesday is my all-time favorite restaurant! I LOVE their salad bar!!!! When I go, I ALWAYS get the same thing... 2 Ruby Mini's with fries and the salad bar. My husband always gets 4 Turkey Ruby Mini's with fries and the salad bar. On special occasions, we order the Chocolate Tall Cake - Next time you go, you've gotta try it! It is THE BEST dessert I've ever had, anywhere! So, now that you've rediscovered Ruby Tuesday, do you think you'll choose it over Applebee's? I know I would!!!!

• United States
6 Jan 09
It's been a long time, but I have eaten there about 3 times. Each time the food was very good. And, you get plenty of it! I had chicken fettucine alfredo once and there was enough for 2 people. They have great food!

• United States
6 Jan 09
Ruby Tuesday used to be my favorite restaurant when it was more of a sports bar. But now they are trying to become more upscale and the only thing left there that I like is their garden bar. I used to love their Buffalo and Bleu Chicken sandwich but the last time I had it it was on a wheat roll instead of a "hamburger" bun and by the time I was a quarter of the way through it the roll was so soggy with mayonnaise and Buffalo sauce I had to finish the rest with a knife and fork. And they got rid of their mozzarella sticks (which were made with mozzarella and cream cheese which made them really creamy and really gooey...and really wonderful) and their French Onion soup, which my sorority sister who works at ours said is the most frequent complaint they get from customers. The last time I went there I was basically dragged (out-voted) and that was two years ago.

• United States
4 Jan 09
Oh yes i love eating there all of there is good.Now i can't any thing hot because of having breathing problems so we just get the wings that are not hot.But i love there salads,and there hamburgers.