What did you had for new year's eve dinner?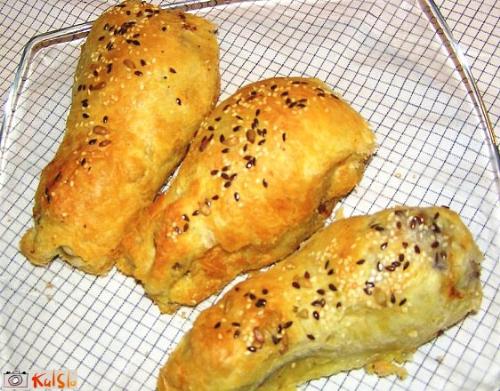 Slovenia
January 4, 2009 4:44pm CST
I always like making something special for new years eve dinner, set the table a bit nicer and just make all look a bit more festive. So this year I made: chicken legs covered in flaky pastry, some rice and colouful paprika. It tasted great and I prepared the meat a day before and on new years eve just stuck it into oven to bake, so I had almost any work left for the final preparation. I would love to share the recipe with you and maybe someone would like to make it sometimes too :) for 2 persons you need: 4 chicken legs (skinless) 100 grams of ham cut in small cubes 1 spoon of mustard some sesame seeds and flaky pastry ( depends on the size of the pack you can get at the store) 1 egg white Mix ham and mustard together. Then prepare the meat. Take skin off the chicken legs, because it doesnt taste good if you leave it on, then just season the legs with salt. Flat the pastry, not too thin but dont leave it too thick also and cut squares big enough to wrap the legs into. Before wrapping you cover the legs with mustard and ham, then nicely wrap each leg into the pastry. You can prepare to this point a day before you gonna serve them. Before putting them into the oven you spread a bit of egg white over the pastry (it gives a nice colour once the legs are baked) and sprinkle some sesame seeds over the legs. Bake in the oven on 180° Celsius for an hour. It is easy to make, looks great and taste perfectly. I served it with some rice and some colured paprikas, which just added to the whole taste.
3 responses

• Canada
5 Jan 09
Mmmmm, that looks really good. We actually completely forgot to eat dinner on New Years' eve. We went to a friend's house for a few drinks and then headed to a pub where we had a few more drinks and before we knew it we were yelling 'happy New Year!'. Needless to say we weren't feeling much pain after the drinks and the lack of dinner.

• Canada
4 Jan 09
Hey there...On new year's eve, I went to a pot luck dinner party...So basically just a ton of finger foods like taco dip and chips, meatballs, mixed nuts and snacks, and there was also sushi there, but I can't stand seafood, espcially if it's raw...


• Canada
4 Jan 09
For us we had a wonderful meal. My daughter and I had mock chicken pot pie because we are vegetarian and the guys had a turkey with all the fixings. Mashed potatoes, sweet potatoes, carrots, gravy, and cranberry sauce. For dessert I just picked up a banana cream pie. The guys are good for eating up most of the turkey within the first few days. The pot pie usually lasts my daughter and I a couple days. The dessert is gone usually before anyone has left the table. LOL