talking to pet dogs....

Davao, Philippines
January 5, 2009 12:38am CST
are you fond of talking to your pets ? do you talk as if your pet dog is like us...i mean like talking to a toddler? or a grown up man perhaps?..well i guess i do talk to our pet dog thinking that it understand every words i say... and really our pet dog does...what about you guys?
6 responses

• India
5 Jan 09
yep i have heard about it since i myself dont have a pet so i cannot do it.yes i have heard many ppl do it even i understand you dogs can understand comands like sit or something so it is proved that they can understand us very well.and recently i heard that in india a dog can speak out english words i dont know if its a rumour or xsomething but the dog can say words like mom food etc i think its true i hope your dog becomes more firendly with you also happy mylotting and keep posting.

• Philippines
5 Jan 09
Oh yeah! i love talking to my dog, Moochie. He is a part of the family so i do feel the need to talk to him everyday. Sometimes i would ask "Moochie, are you ok?" or "What do you want?". I feel like he is my baby so i need to attend to his needs hehe. I know it everytime he wants to drink water or he needs company outside. Sometimes i would just sing a song with only the word "Moochie" as my lyrics lol! If you can only see his reaction lol! He's like saying "You act like a fool!" lol!

• United States
7 Jan 09
Yes, I do. When we got our first 2 canines, we didn't have our daughter so they were our first children. We treated them like people. We talked to them as if they understood and most of the time we were pretty convinced they understood because of their reactions. I say if your dog can understand the simplest words at sit, stand, stay, etc. then talking to them is perfectly normal.

• United States
6 Jan 09
Hey vanities! Well, I don't have a dog but I do have to cats! And I sure do talk to them alot! And they sure do talk to me! They are always talking all the time! I don't know what they are saying but they have plenty to say! Alot of times I know that they are complaining! They have alot to complain about too apparently! My cat Luna is always complaining and whining! He loves to sit in my lap when I'm mylotting! And he just talks away!

• India
5 Jan 09
dog id like my younger brother. i will always talk and walk with my pet boy.

• United States
5 Jan 09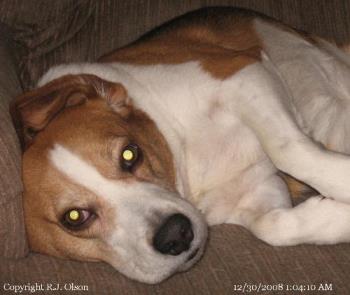 Buster, my beagle, is like a child to me. I talk to him ALL the time like he was a human not a dog. He does understand as he responds to most things I say and or ask. HAPPY POSTINGS FROM GRANDPA BOB !!~