Our Newest Addition/Rescue!:)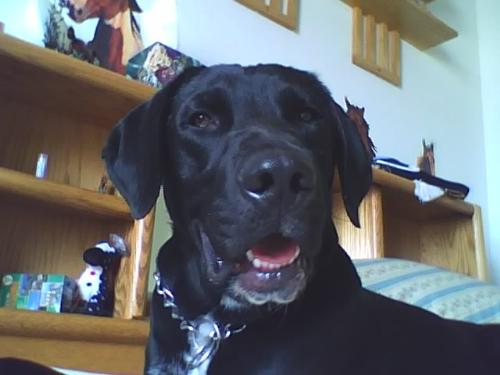 United States
January 5, 2009 7:04am CST
Well, we got that new dog I wanted--he just isn't really what I expected my next dog to be! :) I kind of wanted a small lap dog next, to keep me company on my nights off! But I still love this big goofball! We got him when he bulldozed through all the elementary school kids at the school my mom works for! :) HE ONLY WANTED TO PLAY I PROMISE! :P He's very friendly--but gentle wouldn't exactly explain him! lol. But my mom heard the school was going to call a shelter, and she told them no! She'd take him home :) MY first meeting with him SHOCKED me. I was asleep when he arrived at our house...and when I woke up I did what i always do when I wake up...I went downstairs to let my other 2 dogs out...I failed to notice the door taped to the back door saying, "Don't Let The Dogs Out!" WOOPS! lol. A few minutes after I let them out, my golden retrievr is sitting by the door waiting to be let back in...so I go and open the door. Imagine my surprise when after Goldie comes in, she's follwed by not one, but TWO black dogs!!! I'm really lucky they got along! lol. That would have been a hard fight to break up! :) Of course we immeditaly started thinking of names; each of us coming up with a few..I came up with a whole list though! And I swear, for once, a name I came up with WON! (That never happens in this house! :D) SO...he was dubbed, Sam! :D I always call him either Sam, Samson, Sammy or Samuel...you think I confuse him? lol. He weighed only about 53 pounds when we got him, which we're told is about 10-15 pounds underweight--he looks really skinny! He's at about 57 or 58 now, so he's slowly gaining weight! We think he's a Great Dane/Lab mix, he's a very good looking dog! And the vet told us he is about 1 1/2 or 2 years old (thats what I thought since I saw him). He was not fixed when we got him, but he is now--he handled it like a champ and never held a grudge! Came home as the same sweet goofy boy! Now...if you've actually read this whole thing, thank you I appreciate it! :P I know it's long but hopely it kept your interest! I've added a very good picture of my new handsome boy, Sam! :)
5 responses

• Australia
9 Jan 09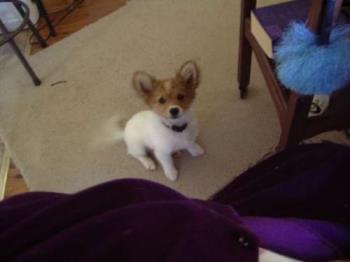 Not quite a lap dog then??? LOL...he couldn't be more opposite. Thank goodness for your Mom coming to his rescue and I love the name. I rescued a puppy just before Christmas and decided to give him to my daughter and her family if they still wanted a puppy. After much discussion and time spent with BoBo, they decided to take him. Meanwhile, he had won my heart and I wanted to keep him. He is now Beau and doing very well with that little family. They all love him to bits...especially my daughter's partner, Brian...but then, he is a cutie of a pup and clever too. He will get the best of everything and have a wonderful life just as I know your Sam will. Good on you for taking him...I reckon fate sends these dogs and pups to us...Sam and Beau are both where they are meant to be.

• United States
10 Jan 09
Oh....Sam makes himself a lapdog lol. When we sit on the couch he will pull himself up and sit right on top of us lol. Bed hog....lap hog! He doesn't realize he's too big for it :P lol. But no one here (except my dad ;P) wants to tell him lol. Bobo(Beau) is so cute! It was nice of you to still give him to your daughter even though you fell in love with him, maybe you could adopt one from a shelter for yourself.

• Australia
10 Jan 09
I have 2 goats and a cat and a dog and I look after my friends dog...don't really need another pet. We live in a remote village where animals are neglected and mistreated as a way of life. There used to be a lot of dogs running loose but we had a pretty dilligent dog catcher who sorted people out about controlling their dogs. Unfortunately, most dogs are tied up all the time...they are lucky if they are fed every other day. I will always step in if the need arises.

• United States
11 Jan 09
Oh! Well then that is very nice of you! :) My family always trys and helps when we can too. My neighbors always let their dogs run loose, and they've had two killed already...and they have another! I kind of wish they would stop getting dogs if they aren't going to watch them..but I havent seen the new one running loose so maybe they're finally learned (after 2 deaths)... But it's good to know there are still people in the world who REALLLY care for animals! Thanks!

• United States
5 Jan 09
Sam is such a cutie! That must have been a shock when you saw an extra dog run inside.

We just got a rescue dog right before Christmas. He is a Shetland Sheepdog Sheltie/Jack Russell Terrier and his name is Bashful. He is extremely playful and so sweet. The rescue shelter I got him from said they found him and his siblings on the side of the road scared and hungry. He is only two months old. Have fun with your new addition to the family!

• United States
7 Jan 09
LOL! it was a really big shock! I think my exact words when the two of them ran in together were "oh my God!" And I immediatly reached down and grabbed the collar that was, thankfully, on him! But I worried for nothing! He gets along well with everyone! :) Ooo that must be a cute mix!! I LOVE Shetlad Sheepdogs! :) Poor babies! i can't understand how people can abandoned any animal, let alone PUPPIES! :( But at least they were rescued! :) And I love the name Bashful :D Any pics?

• United States
10 Jan 09
Well I'll defeniatly be waiting! :D Can't wait to see him; shetland sheepdogs have to be one of the cutest small breeds, very pretty

• United States
10 Jan 09
Thanks for sharing him with us. He looks like a Very loving dog even if he is bigger. I am sure you will have many Fun times with him as well.

• United States
11 Jan 09
He is very loving! He's a great dog and we are very lucky to have gotten him. My family seems to luck out when it comes to strays! :) Thank you!

• Malta
7 Jan 09
Hi Lily, I will see thepicture of Sam after that I post this reply. I am glad that Sam has found a loving home that will provide him with shelter and food. And I do hope that in return he will provide you with love and companionship. I am really glad that you let him into your house.

• United States
11 Jan 09
Sam is very sweet and has already earned his welcome (and the large vet bills! :P) lol. But no one's complaining because he is a really good dog; just in need of some easy training! :) Thank you


• United States
7 Jan 09
Small dogs are defeniatly easier to take care of then big dogs; less expensive too. I think a small dog would be a good animal to start off with, if you think you are ready. My cat that I've had for 4 years now was really my first pet (the first one that was considered MY responsibility and truly only my cat), even though we've always had lots of pets. But I was the one who paid for my cats vet visits and grooming, and took care of her--and that defeniatly taught me more reponsibility! It's kind of like a baby for me; I love her so much I want to make sure she's always healthy and happy-and I dont care about the time or expenses. If you can talk your mom into letting you get a small dog I would DEFENIATLY recommend either a King Charles Cavalier Spaniel or a Pug. I work with all kind of dogs and those are 2 VERY good small dogs. Poodles and Shih tzu's aren't bad either. Very well behaived, and for the most part quiet. I also heard somewhere that poodles are one of the easiest dogs to train, but I dont know if that goes for all of them or just the Standards.