Is it good to have a cap on during sleep?

China
January 5, 2009 8:09am CST
It is so cold without heating that I sometimes even feel the pain in the head. I was advised to wear a cap during sleep. Is it good idea? I am afraid that if I do wear a cap, I will be relying on it, and go around with the cap on. That is not what I want. Do you have any alternatives, other than heating?
5 responses

• Philippines
5 Jan 09
Have you asked for a second opinion? If not, you should because they're might be another way to ease from the cold. I haven't got any idea what that might be because in my place it's not cold enough to wear a cap. Anyways, I think that would be hard for you to wear that cap while sleeping it is very uncomfortable. If I were you I really should ask for a second opinion. Have a nice day!

• United States
6 Jan 09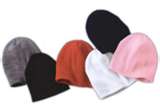 Hi rane, there's no need for a second opinion because it is true. You see, heat escapes through the tops of our heads so wearing a stocking type of cap won't be uncomfortable at all and it'll keep the heat inside your body thus keeping you warm.

• Canada
5 Jan 09
Hi zhuhuifen, We lose most of our body heat from our head, so I would advise you to wear a cap while sleeping if it is really cold. As for wearing a cap all the time, I can understand how you feel because I've never liked wearing a cap either. There are however, many different types of caps and hats and if you have to wear one outside, you should be able to find something that you would feel okay with. Blessings.

• United States
20 Aug 10
Hi, zhuhuifen46. I am not so sure. I know when I used to be really cold, I slept with a warm knit cotton hat on my head. It kept me really warm for the winter at night. My head was so cold then. I don't know of any other alternatives than to wrap something warm around your head at night. For further inquires, you should seek the doctor's advice.

• Boise, Idaho
6 Jan 09
In the old days people wore caps and that was the fashion for many years. If you keep your head and feet covered you will be warmer. Then is where heat leaves the body. Adviced by who? It is a smart idea. Either that or put a pillow up around your head or something. If you try socks or something on your feet maybe you won't need the cap.

• United States
6 Jan 09
You were advised correctly because with the human body, heat escapes out of the top of our heads and wearing a cap to bed will keep the heat in more. So yes, you were advised right. It will help you a great deal. Animals are different, heat escapes out of their paws. I guess we should makes some slippers for them? lol