We Are Safe Even Though Everywhere Around Us Is Flooding

United States
January 7, 2009 9:14pm CST
I am sure many of you might be aware of the heavy rains that Western Washington is getting right now. We have many areas about an hr. from here that are getting flooded, and having towns that are even having to be evacuated. (My husbands neice and family is one of them even.) It is really coming down hard here for Rain, and it is also quite windy as well. Not sure how much longer this is supposed to last here for us, but it is not Fun. We had the heavy snows, and now rain, and now flooding, etc. as well. If you say Prayers, I am sure that people would really appreciate it. This is becoming an aweful winter here for this area, and one to remember for sure. Makes you sometimes begin to wonder what next. So with all of this, how are things where you are? Wishing you the Best. ~~TINA~~
10 responses

• China
9 Jan 09
Wish you good luck. I am a chinese and glad to see that people is so kind. Why did I come here is that I want to improve my english. Hope everyone have a heart respect life.

• United States
8 Jan 09
I feel for you up there in the North west as well and in the north east. you are both betting a pounding this winter. I'm down in the south east and we are actually having some pretty decent weather for this time of the year, with some terrible winds in some areas yesterday. We haven't had a whole lot of bad weather this year so far. I'm Glad to know that your safe and not about to get swept away.


• United States
8 Jan 09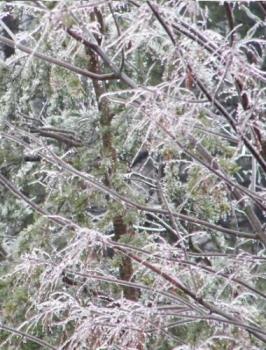 I hope that rain ends soon for you guys up there! I know I'd be frightened if I was told I had to evacuate because of potential or current flooding! It's snowing here at the moment. Yesterday, it rained all day but, for most of it, it froze once it hit the ground. We had an ice sheet all over everything! It was beautiful on the trees but so treacherous to walk or drive on! This season has been an especially wet one so far! I think it's true that most of the country is experiencing worst-than-usual weather. From all of the shows my husband and I watch on TV, it looks like the weather is just going to get crazier and crazier with the global warming thing going on. (I also believe that this global warming has very little to do with what we, as humans, have done to our planet... it's just something that naturally happens.)


• Davao, Philippines
8 Jan 09
hi krause..we have a very fine weather here in our country..just be careful and always ready for untoward events..there's really no such things as predictable weather...it will just pass..kept on praying..

• Canada
8 Jan 09
YOu certainly have my prayers my friend, and I pray for everyone who has trouble with weather anywhere.

• United States
8 Jan 09
I am glad you are safe. I had not heard of the flooding. I did hear about the big snow. I hope everyone stays safe and I will be praying for all of you.

• United States
8 Jan 09
I just saw on the yahoo news that you folks up that way was having heavy flooding. I had wondered about you, glad to hear that you are ok. Its winter where I am at too, I am so ready for spring, it seems to far away. I need to take my trash out, but I have been putting it off, I don't want to go out in the cold and snow. ake care and stay warm.

• United States
8 Jan 09
Things are good here in Louisiana. We did have some bad rain for about 5 days but no flooding here. There are places in Louisiana that did. But the worst part is that we get all the melting snow and rain draining down out into the gulf. So sometimes the rivers here get scary.