Preferred shopping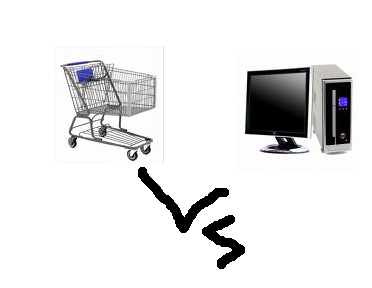 United States
January 8, 2009 1:30am CST
How do you prefer to shop? Do you prefer online shopping or do you prefer going into the store and picking something off the shelf, going to a check out counter, and taking your item home NOW? * Each way of shopping has both drawbacks and rewards. * Online shopping's key benefit allows you to evade crowds which can be very annoying. Tired tots screech because parents often don't plan around their bed or nap times, especially at peak shopping seasons like Christmas. Often there are not enough staff in stores to attend to check out-payment, which do not help parents plan around tot schedules. * The drawbacks are you have to wait for your product for sometimes weeks and returning defective things is a hassle. Shipping and handling can be pricey. * Shopping in stores can lead to instant gratification, getting products home out of the box and in use the same day, but returning defective things can be a hassle again. Shopping during peak shopping periods is a major nightmare. * What are your pros, cons, and preferences?
3 responses

• China
8 Jan 09
Hello CraftyCorner. I have never had any online shopping experiences, but my best friend has a lot of online shopping experiences. It is amazing that the products she has been buying from landsend have been excellent, most of which are garments. There was one time when one of the pants bought from the site of landsend was not so satisfactory, she returned it to it and got another new one withing fifteen working days, which is a good service from the site.

• United States
9 Jan 09
Interesting...very interesting indeed. I rarely buy clothes new, a thrift store tends to be my first choice except for footwear and underwear. I've hard to fit feet, and who wants to wear a strangers' undies?


•
8 Jan 09
A lot of my shopping is done online, I just prefer it that way. I use sites like eBay and Amazon the most. The things I buy include: - Computer hardware and software - Computer games - Clothes - Other electrical items - and more... I really like to shop online, it's nice to sit at home in a warm comfortable chair rather than being out in the mall or highstreet.

• United States
9 Jan 09
The only things I don't buy on line generally are perishables. Shipping can be brutal or you simply can't get them at any kind of good price.

• United States
8 Jan 09
Hello craftycorner! I never tried online shopping yet but I would love to try some time. I guess the pros in shopping directly is that you can get the best quality product you want, you can have the things immediately and you can choose as much as you can. Maybe the cons is that it's tiring to go there and you have to spend too many time to shop. I think the cons. in online shopping is that you have to pay for the shipment aside from you can't immediately get the product and you're not sure of the quality too. The advantage I know is that it's really more cheaper.

• United States
9 Jan 09
In my area it can be a challenge getting the best quality product you want for the best price. Electronic stores are scarce here.