Symbolic Tattoos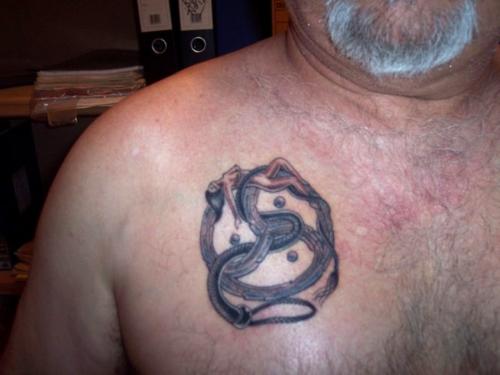 Australia
January 9, 2009 10:11pm CST
I like the fact that this interest comes up with the BDSM symbol. I liked that symbol so much that when I decided I had finally foubnd my spiritual home (lol) in BDSM, I incorporated it in a symbolic tattoo - the symbol with a naked slave girl reclining on the top, with a single tail whip threaded through the symbol. I've attached a pic, not sure how well it will show up. Any of the readers done a symbolic tattoo, or been tattooed by their Dom/mes? Lash
5 responses

• Australia
10 Jan 09
I love the look of that tattoo. It is very cleverly done by the artist. I suspect that it must have hurt though. Did it take a long time to produce? I can appreciate tattoos on other people but I have never particularly desired one or had one done. I must admit to being scared of the pain caused by having them done. I have experienced some needle work but I think that having ink injected into your body would be quite painful and probably expensive these days. I think that some people are put off by the pain and the fact that they are permanent. I know they say you can laser them off but I believe that this leaves scarring behind which I think would be worse than having a tattoo.

• Australia
23 Feb 09
I became very excited there for a minute as I thought my dear friend Lash had made a comeback! And maybe he has?

I have always desired to have Asian symbolism on me starting with the yin and yang as the centrepiece and then moving further out into koi and Japanes folklore representations etc. Unfortunately I never got any further than the yin and yang itself! lol. It was done well over 15 years ago by a professional tattooist and not by anyone I knew personally either. Your own tattoo looks very interesting and has slight celtic undertones as well in my opinion! I've always appreciated designs that are personally influenced rather than the tattoos where people just walk into a studio, point to a design on a wall and say "I'll have THAT one!"

That approach has never made sense to me. It's permanent so at least make it as original as possible!

• Australia
5 Mar 09
Not really a comeback, just dropping in from time to time. The second tattoo, being to do with paganism, is indeed Celtic in feel - the snake (Goddess)/circle represents the magic circle, the stag head is the celtic horned Lord, and the pentagram the elements. Lash


• Australia
14 Jan 09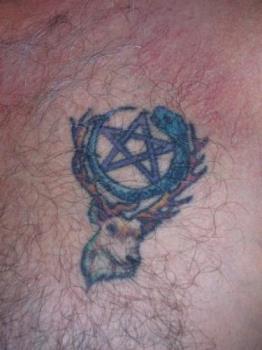 I have one on the ather pec as well, another symbolic one that celebrated my initiation to 3rd degree wiccan priest, 17 years ago. I have since abandoned wicca, but I still like the tat. Lash

• India
10 Jan 09
hi dear friend i dont like tattoos i dont know why

• United States
14 Jan 09
I never have, and never had a tatoo in general. We could never think of a symbol that worked well, or anything in general I would want on me. If he ever told me he wanted to, I would let him, whatever method he chose.