Waterfall vs Beach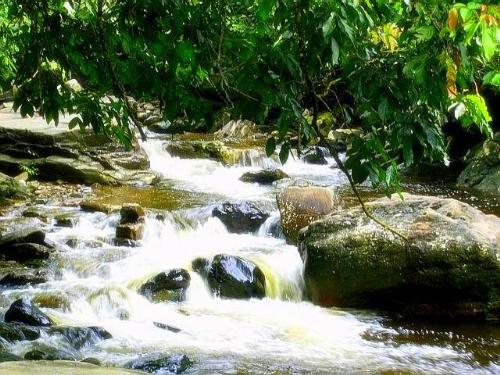 Malaysia
9 responses

• United Kingdom
10 Jan 09
I like waterfalls and my favorite is Crystal Cascades in Queensland, Australia. There are many cool pools to bathe in and water to have a refreshing shower under. However I must say that I prefer to spend time on palm fringed beaches with gently waving palm trees. I enjoy the sound of the waves softly splashing and feel of a gentle sea breeze. I adore going snorkeling to see colorful coral and friendly fish.

• United Kingdom
11 Jan 09
I have got sun burnt skin in Hawaii because I went to sleep on a palm fringed beach. I was wearing sun cream though. New Zealand has climate that gives sun burn more easily than my home country. Samoa has some gorgeous looking waterfalls. You would love it there. I have been to Malaysia and it was hot there.

• Panama
12 Jan 09
I love both, almost as equally.The picturesque sight of the Falls and its surroundings are awesome. Taking some interesting photos of both the falls and the beach will always spark interesting dialogs.For you to have a little more enjoyment at the beach, you have to protect yourself with appropriate anti sunburn protection

• Canada
11 Jan 09
It is diffcult to make a comparison. A waterfall has its own beauty and a beach has its own. It is very good to be by the side of a waterfall. The roaring sound of the waterfall is really unique and good to go very close to it. The beauty os the beach is something differnt, it is unique in a different sort of way.

• China
10 Jan 09
i prefer waterfall too. i think it is more natural than beach. Also, i am not very well in swinmming. so i'd like to watch, hear and feel waterfall rather than walk along the beach.

• Philippines
10 Jan 09
I also prefer waterfalls than the beach though i love the sand. But it is much safer because you cant get more sunburn if you swim the whole day. beside you can drink the water lols. Not like in the beach the water is too salty:)

• India
10 Jan 09
ya i would also love waterfall because when it starts its little tiny drops when come to your face and i feel so fresh as can i go to beaches there is nothing except sun and there is also danger of coming tsunami

• Philippines
10 Jan 09

I love waterfalls, too. I have been to waterfalls and I really love the experience and the feeling being with nature. It soothes and relaxes me. It's a very nice place for family gathering and unwinding. Good day!

• India
10 Jan 09
I prefer the beach

.I love to stand in the waves of water and enjoy.I like the big waves that come.I also like the sunset view of the beach.I also love the different birds that sit on the beach.I also love the shell shopping and eatables on the beach.I feel so relaxed in the beach.



• India
25 Feb 09
I enjoy going to the beach and just sitting there and enjoying the silence all around. But I think I would like the water fall more. Just the sound of the flowing water is indeed a pleasure to hear. I get a chance to go to the beach very often but there are no waterfalls around and have to wait once a year to go on a holiday and enjoy the waterfalls.