Peanut Butter and Jelly French Toast!!!!??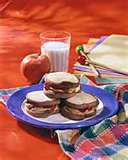 United States
January 10, 2009 10:35am CST
[b]Ever heard of it?? Have you ever tried it? I just recently went to visit my father who lives 3 hours away.

While I was visiting my uncle volunteered to make breakfast one day, so we went over there to eat breakfast. When I asked him what he was making he said: Peanut butter and Jelly french toast.

Immediately it sounded delicious to to, and guess what:
It was Delicious!
Ahhh I love them, they were
soooooooooooo good
!

So now for my questions,Does it sound good to you? Would you try them? Or have you ever tried them??[/b]
2 responses

• Philippines
10 Jan 09
oh i love these, i do. i used to eat these a lot when i lived with my parents. sadly, my husband's family with whom i live with now do not eat bread for breakfast so i have to be the one to adjust and eat rice meals every morning

• United States
10 Jan 09
Is your husband hispanic or chinese?

I would make them anyways lol. Mine is hispanic and he doesnt eat breakfast, plus I have two kids of his so I am free to eat what I want

But sometime he will make leche con arroz. sugar milk rice. Its good sometime, but its one of those food where you have to be in the mood to eat it.


• United States
10 Jan 09
Haha Your right there is rice everywhere

But not many cultures eat it for breakfast, I forgot about the phillipino. My uncle married a phillipino.

I am not too familuar with the food from that culture.



• United States
10 Jan 09
Lol yeah probably in a cartoon!

And yes it is very yummy! You should try making it. We sprinkled a little powdered sugar and put some syrup on it as well! Turned out reallly really good.