Crime is moving in!

United States
January 10, 2009 5:26pm CST
Back in September, I had a discussion on a Bingo Hall that was about to be built next to us. It is out here in the country, on a two lane road, in a very dangerous area. It is between two curves. The one coming up the hill is at the edge of our property and we've had numerous wrecks over the years. A man also left the road and hit two of our trees and died on the spot. So, it's not a place where a Bingo Hall should be built. But moreso, we do NOT want it here! Our privacy is already gone when they did away with all the trees on that property. And, to make it worse, part of the acreage joins ua on the back of our house, too! It's a double-edged sword. Well, the construction company had left it back in October without finishing the job. And we thought that it was gone forever. We had heard some of the backers were out and they were having problems getting a building permit. Well, yesterday morning, I went to leave my garage and saw all this machinery and men out there. They are back out there, and have got the footing ready to be poured and laying water lines. In our state, gambling is illegal. Although they call this Charity Bingo, it is nothing but gambling with electronic casino machines! The Governor, Attorney General, and others have tried to get it stopped in our State. But some counties keep putting it in, over and over! They've closed down numerous ones because of their failure to build the buildings correctly - no sprinklers, etc. The way they cleaned off the property has given us a headache! When it rains lots, we have a mudhole in our front and side yards. It's just a matter of time until it floods our back yard with mud running off the two piles of red dirt that is right over the property line which is very close to our house. And, it seems the construction company is not going to put up the screens that would have eliminated this, had they done it before they started. I dread the day the building is finished and people are there 24 hours a day, 6 days a week! There will be trash in our yards, people pulling in our driveway, thinking the are going into there, people parking on our yard when there is overflow, and neon lights blinking constantly! We will have absolutely no privacy. AND I already feel like the privacy is gone because I don't feel like getting out there doing any work while those men are over there. Imagine what it will be like with hundreds of people over there daily!! It saddens me that our world has come to this - that money means more to some that letting people live their life in peace! There is absolutely no reason for this to be built out here in the country. They have plenty of these down a long 4 lane stretch in that same county. Our county would not allow it, but we are bearing the brunt of the mess because we are right on the county line!
5 responses

• United States
11 Jan 09
I'm sorry to hear that they are moving forward with plans to plop this Bingo Hall right in your lap. I agree that you should document the process. Take pictures, keep a journal or both. Track the progress and damages to your property.

• United States
13 Jan 09
I remember your discussion and thought that they were not going to be able to build there,I am so sorry that your privacy is being violate so people can gamble,that just dont seem right.When they start parking on your property call the police and have their car removed a few times of that and it will get around the hall not to park there,I know all about trash.People go up and down the road I live on throwing out trash all the time,even in my yard.Good luck to you.

• United States
13 Jan 09
We hope that this will be stopped before they get the building up. But it will have to hurry since they are about to pour the concrete. It is terrible that they would pick this place, out in the boon docks, on a two lane road, to put up a gambling hall! They don't have any respect for anyone, or they would never have started one out here. This is a quiet neighborhood and we don't need gambling here.

• United States
13 Jan 09
I understand that I would hate it if they tried that here where I live,I am in the boonies too and thats why I moved here.Good luck and keep us up to date.Have a great night.

• Regina, Saskatchewan
11 Jan 09
I remember that discussion Barb, and I'm saddened to hear that they are going through with the Bingo Hall. There goes your property value! My best advice would be to take pictures of the building process, especially shots of it's impact on your property. There could be a lawsuit there in the future. Other than that, what can I say? Greed is a terrible thing!

• United States
11 Jan 09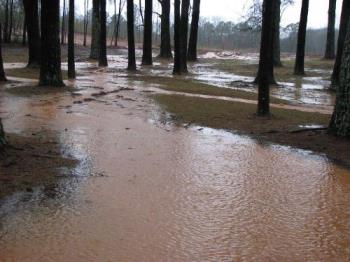 Yes, our property value is gone! We have had two major rains lately. The last one was about 2 1/2 days, constantly raining. They did not put up the screens they are required to put up when the first start excavating. And it has caused the red mud to flood our land, especially our front yard. The picture here shows a good part of one side of our driveway, looking from beyond our garage, sort of in the middle of the side yard. I have one looking from that way into our garage, but I can't send two pictures. But you get the idea what we've gone through. My husband took some awesome pictures both times. You have to realize that it also comes down from the left of that picture which is on our property line. It was awful for 2 days, and it still hasn't dried up. Our ground is like mush in some places. I walked over there yesterday afternoon to the edge of our property, which is just inside the last trees to see what they had gotten done. There is so much mud over there it's unbelievable and they are working in it! We had a flood, and I'm not kidding!

• Regina, Saskatchewan
11 Jan 09
Oh Barb, I do so feel for you. What a terrible spoiler for your lovely land! Just keep taking those pics................ MUST go to bed now, might not even eat,...................


• United States
15 Jan 09
This is horrible. I wish the pressure applied to those issuing the permit, maybe they could have stopped them from building. With the slow economy, do people still want to gamble away their money? I understand, I probably would never go out there to work on my back yard too if those men were out there.


• United States
13 Jan 09
Today, my husband talked to someone on the investigation staff that our Governor has gotten together to investigate all this illegal gambling. The guy he talked to was very encouraging in that he thought they would get someone right on this one because they didn't know about it. And my husband asked him if perhaps they could get it investigated and perhaps keep it from being built at least until the judge had a chance to make his ruling, the guy said certainly. So hopefully, something will be done. My husband did tell him that they told him they could get the building up in 6 weeks. And, they have the footing ready to be poured now.