My house is flooded.

Malaysia
January 11, 2009 7:11pm CST
Sigh, it is raining cats and dogs for the last few days and on Saturday, my housing area was flooded. I brought my son out and stayed at my parents' house. I am not sure how is the situation at my house. My husband is at home taking care of the things. I have to take a day off from work today as there is no one looking after my baby boy. Do you have encouter flood before? What is your experience?
3 responses

• United States
13 Jan 09
I have not ever been flooded out. A few years ago our area was hit with a large flood and since my home is up on a hill, I was lucky and took my family in until their homes were liveable again. I did try to take my daughter on her paper route and had to give up as the water all around me was thigh level and still pouring down. I did miss a day of work as all the roads around me were shut down and I did not have a boat. I hope you won't have to be relocated and that you, your family and home stay safe!

• Malaysia
13 Jan 09
sid556, it is nice to hear such kind words from you. Thanks you. The flood is clear now.

• Philippines
12 Jan 09
floods around the world are getting more and more horrible. we had floods last week and another one this week. according to the news, there are more than 5,000 families in our city affected by the flood last week and a fresh batch this week. the worst part is that the floods are caused by our overflowing river and it's such a terrible thing to get caught in the water flow. people could die if they get washed down the river here's an article and two pictures of our river flood: http://causticthoughts-gracemags.blogspot.com/2009/01/hell-hath-no-fury-like-nature-scorned.html the city government is having a hard time figuring out where to put the evacuees

• United States
12 Jan 09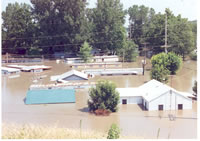 Been there done that. I was living in St. Louis MO for the flood of 1993.Mississippi River Flood of 1993—On August 1, 1993, the largest peak discharge since 1844 was measured at St. Louis on the Mississippi River by the U.S. Geological Survey.