My plan for 2009

United States
January 11, 2009 11:05pm CST
I plan to craft with stuff I already have. I have lots of yarn, fabric, ect. and I am going to make a real effort to not buy any more stuff this year. I will be making a lot of 'scrappy' projects. Some will be sewn, some will be crocheted and some knitted. I have lots of books and patterns too. I will try to post some pictures as I go along. Want to join me???
9 responses

• United States
12 Jan 09
I lost
all
of my craft supplies last year when I moved and had to put stuff in storage. I lost the storage units when I couldn't pay the bills and my stuff got auctioned off. I now have to start all over again from scratch. It SUCKS!



• United States
12 Jan 09
Sorry to hear what happened. You might also check at garage sales for reasonably priced craft items that people are trying to get rid of. Just this past summer, I went to a charity event garage sale and got a whole bag of ribbon for $1. There were other bags with thread and tools. Sometimes people just give up on their projects or have kits they never complete. Just an idea. Sorry about losing all your stuff.

• United States
12 Jan 09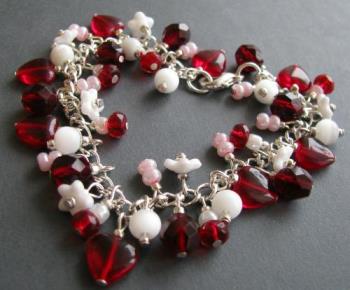 I've recently straightened up my craft room and found a bunch of "stuff" I forgot about or didn't know I had and I've been using these new-found components in my crafting. I do sell sell online at Etsy, and I put one of these new creations on the site and not only did it sell, but I received 2 custom orders from the piece (one bracelet in a larger size and another in a child's size) and these orders will wipe out those long-lost beads. I'm also about to start knitting a scarf with a couple of long forgotten about skeins of yarn and I'll try to post pictures of everything as I complete them. The image included is the bracelet that sold over the weekend.

• United States
12 Jan 09
The bracelet is beautiful. Isn't it fun to 'find' something that has not been seen for awhile. I am finding materials that were intended for one project but I am using in another. I will be watching for your pictures.



• United States
13 Jan 09
that cell phone bag is darling

• United States
13 Jan 09
I do craft sales so have alot of things left over to use up. I will be making some table runners out of material I've had around a long time...I also have tons of Christmas material and want to make a Christmas quilt as the gift for our next family Christmas where we bring a ladies gift....then play dirty bingo for the gift. Right now I am taking a break and catching up on some scrapbooking....I'll restart doing crafts in Feb.

• United States
15 Jan 09
I'm sorry, I meant to respond to your post earlier and I got distracted by things going on here at home. Did you do well with your craft sales? Do you thing crafting sales will be more in demand with the economy or less?? I know I will be turning to my crafting more and more for entertainment for myself, but also for gift items for others.

• United States
16 Jan 09
Actually I am doing quite well with my craft things....in Nov. I did a sale and it was the biggest one I have had so far. I think people will go back to the more handmade items. We have seen alot of retail going by way of CHina....and maybe this will be the time for people who have a craft to break through again.

• United States
16 Jan 09
It would be nice if people do start to appriciate handwork more.

• United States
12 Jan 09
I am planning to do more crafting this year as well. I love to sew, and have a lot of projects I am interested in pursuing that I have been putting off for months, if not years.

However, 2009 is time for a turnaround. In the past I have made cat toys (sewn) and sold some at my vet's office. I plan to make some for Valentine's Day. That's my first project of the year, but I want to make chef's aprons, purses, hats, table runners, pillows, and a variety of other things.

Do you try and sell things? Or do you just make them for your friends and family? I do both, although less on the selling end. I have entered my projects at the county fair in the summer and made money that way. Also, my sister is on Etsy.com, a craft site. Are you familiar with this site? If not, you should consider it.

Looking forward to hearing more about what you have to say about your own crafting.


• United States
12 Jan 09
I am really impressed with all your crafting, but that's how it seems to work. You get interested in one thing and it leads to another. Just visiting a craft store like Michael's or Hobby Lobby fills me with new ideas and things I'd like to try. One of my projects is to make purses out of old wool sweaters. Have you ever tried that?

• United States
12 Jan 09
I have seen the wool made into things, called 'Felting', I haven't done any of it. I live in South Texas and wool is not something we have much of around here.When my children were young, I made some nice legging type garments for them using old sweaters. The sweaters must have been man made fibers as they were all nicely machine washable. And easy care of materials was and is important to me. Almost all of my yarn is acrylic. In fact all most all of my yarns, threads and fabrics come from yard sales. I am limited in walking ability, so my husband does all most all out of the house chores, plus all of our shopping. He loves thrift shops and yard sales and is always bringing me home crafting goodies from them. It's double fun, getting to SEE what he finds, then finding a use for it.

• United States
14 Jan 09
dont feel bad i felt the same way i had so many things going on in different stages of being finished it wasnt funny but i dont have that problem anymore because i dont have my stuff anymore it all went up in flames. i even had a quilt top stamped crossstitch that was done the first year i was married and never got quilted that was in the house i have been married for 16 years now so iam in the process of starting over.

• United States
15 Jan 09
I know that feeling of loss. Our house burned to the ground when my oldest was a senior in high school, At least we had insurance. But insurance can't cover the loss of hand made, with love items!!!! One of the things we lost was the size 10 thread, hand crocheted bedspread for a twin size bed, done in yellow and white. I had just finished it a couple of months before and my 15 year old daughter treasured it, gone, except for the memories.

• United States
13 Jan 09
Yes! I cleaned out some of my craft area and realized how many projects I have stashed away, plus tons (well, maybe pounds) of yarn... although I had to buy some more because I was asked to knit a couple of things for friends and I didn't have the right kind of yarn. Other than special projects like that, I'm going to try to only craft with what I have. It's enough for a year and then some! :)

• United States
15 Jan 09
I hope you will share plans and pictures with us.

• United States
16 Jan 09
that is wonderful idea to use up what you have... I am actually trying to spend less and use up what I have in my house for all kinds of things before we decide to go out and make more purchases that have become unnecessary.

• Canada
16 Dec 10
i'm curious to know if you ended up trying to sell on etsy, and if so, how is it going now nearly in 2011? i love recycling old bits of crafting materials. today i made a kumihimo braid and cut up a sock. no way would i throw away the bits of leftover thread, or the 'toe' part of the sock - these could prove vital in future craft ideas! :) especially the sock which can be used to 'dress' stuffed toys, or actually MAKE stuffed toys, or stitch it into something totally wacky and unique! :)