Do you think I have any skill as a photographer?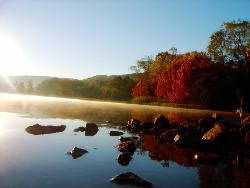 United States
7 responses

• United States
12 Nov 06
The subject of your photo is good, the mirror image in the water. You need to be careful where you set up to take the picture and check your lighting. To the left your have a sun flare and the rocks on the right are almose hidden by the darkness. I would suggest that you try retaking the smae photo early in the day or later in the afternoon. Try it from different locations and some with the sun at your back. Most professionals would say that you need to play with the exposier and position of your camera. You may take 30 to 40 photos of the same site to get one good shot. Kepp up the good work you have an eye for seeing a good photo you have to work on technique. I perfer Action Sports and have takne thousands of photos to get a few good one and maybe one worth submitting for a contsest.

• China
12 Nov 06
you can make even more progress in the future.


• United States
10 Nov 06
I don't know much about photography, but I think it is lovely and I really like your other photos in your profile too.