How much is MUCH, when i ask you, "how much do you love your partner?"?

Philippines
January 13, 2009 7:44am CST
i love my girlfriend this much that im making this blog to declare and SHOUT to the whole MyLot community that i love her so much that i cant imagine a life with out her by my side. and i really want to grow old with her. you? much do you love you partner/fiannce/wife/husband?
4 responses

• Philippines
13 Jan 09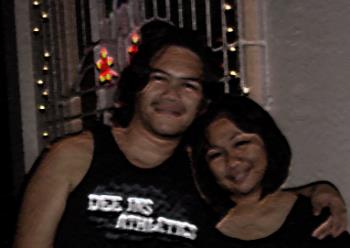 Hi there Phatiasid!I think that's really sweet. It's hard to find sweet guys nowadays that are willing to show how much they love their significant other to the world. If you'll ask me how much I love my husband, I would say I love him with all of my life.

• Philippines
14 Jan 09
hi there.. you remember making a comment to one of mylotters named PHATSI..shes my girl..i love her so much..and im willing to do everything for her.as in totally everything..

• Philippines
13 Jan 09
I love my husband more than I love myself. The reason why I love him that much is because I found the love in him that I have been looking for a long time. He always make sure that I am not hungry, that I feel good and I am happy. He is the best man for me and I am very lucky because he loves me more than anybody else. We now have a 3-month old son and that makes him work eve harder. I love him not only because I married him but because I know that no other man can offer me the kind of love he has given to me. I love him simply because he is natural and true to all his acts and promises. I love him because he gives me almost 80 percent of his time. The rest goes to work and travel from home to their office. I simply love my husband indeed.

•
13 Jan 09
I too totally love my partner alot. Currently we are undergoing long distance relationship and I love him so much that I can stay true to him forever. I can't imagine myself without him or breaking up with him. We have even planned to get married the next time and so on and on. I love him alot and he makes me feel that he loves me alot too.

• Philippines
13 Jan 09
You seem very in love dude!anyways,about mine,i love my hubby very much.Like what you said,i wanna grow old with him also.I cant measure my love for him.,no words can express how much i love him.My love for him keeps growing everyday,And that's the reason also why i allowed him to marry me.stay in love dude!Have a nice day to you.