Have you ever seen anything you thought was so adorable you had to take a photo?

United States
January 14, 2009 2:24pm CST
My hubby is currently laying on the loveseat. He is sleeping with our son on his chest. I looked over and just had to take a picture. It's one of those moments that makes you go "awwwwww" If I get the ok from him I may post the pic later. Ever had one of those moments? What was the picture of?
9 responses

• United States
14 Jan 09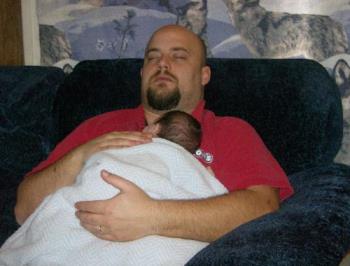 I have a pic of hubby sleeping like that with each of our kids, except the oldest of course. Sometimes he was pretending to sleep, but sometimes he really was asleep. Here's a pic of him with my youngest, when the baby was about a month old.

• United States
15 Jan 09
cute! Mine looks the same except hubby full on lay


• United States
21 Jan 09
I like sleeping baby pictures, they are like little angels. Sometimes I snap a photo of my wife and daughter sleeping together. She doesn't like that but I think they are wonderful photos.

• United States
15 Jan 09
In my case, it is usually of our little doggie being adorable. I have a ton of images in my cellphone, only one of them has Boyfriend in it and most of them are of her.


• United States
15 Jan 09
Aww.

I bet that is adorable. I have had a few moments like that but rarely get it on film. You were lucky..It is a photo to put in baby album. It will later show how much he was loved.

• Pakistan
15 Jan 09
hi dear sound kool it reminds me one pic taken by my wife, where i went to sleep while playing with my son( he was six month then, i guess) and he also went to sleep on my chest. wow thats nice, i have captured many such moments of my kids on my cell phone take care



• United States
15 Jan 09
My 2 you GD loves my Malibu. She named it Malley and the other week I barely scrapped the edge of the front bumper on the garage door as I was pulling in. I wiped most the paint off and my husband polished it and now in perfect condition. I told my GD about it and when she got out of the car, she went right to the front bumper and kissed it and hugged it and cooed, "its okay, I still love you" to the bumper! I took a picture with my cell phone but dont' know how to get it downloaded here! But boy was it the cutest thing!