Ah think we all need ta' git a lot friendlier on ma'lot!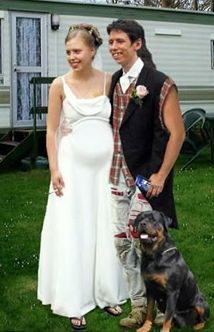 January 14, 2009 4:26pm CST
Ah sure do love all you mahlot folk. Ah want to get ta know you all much better! I'll start off. I've included a bootiful picture of ma weddin' to ma third wife and favorite cousin Marybeth Conzinetine. Don't she look 'swell'? She's holdin on to our 4th little un! Do you like our new fancy dan home in the background? What kind of house do you live in? Do you have bolt locks? Ah want to share more about me. Ah work as a 'car removal expert'. Ah can pretty much get you any darn van you want as long as you aint fussy on the colour!! Ma hobbies are sleepin' and drinkin during the day as most of my work is carried out under the cover of darkness. Shot!! I don't even have a computer!! This could be your pc im on right now god darn it!!! So tell me about yourself. Where do you live? Do you live on your own? What's your address? (zip code as well) What kind of car do you drive? Do you leave the keys in the ignition? Am so god darn stupid i can't remember my bank details!!!! Can you remember your bank details? Prove it!! Ah bet you can't write them down for me right now!!! Ah think we could be mighty close friends you and me!!
4 responses

• San Marcos, Texas
14 Jan 09
I bet with your teeth you can open any bottle too..lol..hope you and cousin wifey make this marriage work..I don't want to be number 5..hee heeeee

• United States
15 Jan 09
Readin yer letter makes me feel like ah've gone home agin, Mistah Ex. Y'all sure do know how ta string them purdy werds together. Yup, y'all's slick as snot on a slide. Ah thank if ah met ya, well, ah thank ah'd just faint plain away. Yup, just faint plain away, yes ah would.

• Canada
14 Jan 09
lol, i looked at the photo before reading the post and was like oh my god i hope he's kidding. this was funny, thanks for the laugh

• United States
14 Jan 09
I was like rolling in the floor laughing as I was reading this. AND THEN I looked at the picture. Oh my goodness, I just couldn't quit. Thanks for that I really did need a good laugh today. I hope you and your new bride and your four children will all have a great year this year! Thanks again for the laugh and have a wonderful day.