Do you Snow Camp?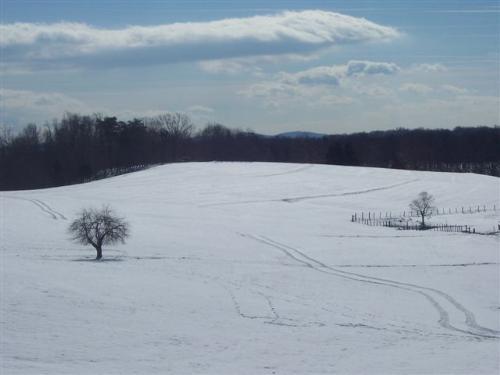 United States
January 14, 2009 5:38pm CST

I love camping and hiking the year round. My last snow camp was on the Appalachian Trail in Connecticut. It was a lazy snow bound day and I got this wild idea that I wanted to go camping. So, my then boyfriend and I packed up our gear and our black lab, Shadow and off we went. It was already late in day and by the time we got to the trail head, dusk was starting to fall. After about 3 miles it started to snow, we were already slogging through knee-deep new fallen snow from the day before, we decided we were probably closer to the shelter then if we turned around and went back. Finally, we reached the ridge and had to decide right or left to the nearest shelter, we could barely see by that time, the snow was falling so heavy. Well we made it to the shelter, set our tent up in it, got a fire going, and the camp stove, had hot cocoa, and I heated up Shadow's food for her. We all snuggled down for the night! When we woke up, we were rewarded with the most beautiful, sunny, snow-filled day. The tree branches were bending so gracefully under the weight of the snow, the sky was clear, the air crisp. Oh how I loved that weekend in the snow! So, are you a snow camper?
Be happy, be joyful, be safe, be strong!
oohcute2340
4 responses

• United States
15 Jan 09
I've been snowcamping twice so far.. Both were with the Boy Scouts. The first experience was pretty mundane, however the second snow camping adventure took place at Philmont Scout Ranch, on their winter "Kanik" experience. We we're having a lot of fun, and we built a snow shelter to spend the night in, but at around 2 in the morning our shelter, with it's 2 feet thick walls, collapsed on us! We spent the remaining hours of the night huddled together, without much clothing, as most of it was burried in the collapsed shelter. Eventually, we were taken out a day early by the Philmont Ranch Staff. Looking back it was alot of fun, but at the time...not so much


• United States
14 Jan 09
The part that sounds wonderful is getting to the camp and getting the hot chocolate going. I'm not much of one for that kind of cold, but would love to wake up to the scene you described. I'll bet you don't go this week end with the temps going so low this weekend.

• Shingle Springs, California
14 Jan 09
I'm a wuss when it comes to the cold. Been a few years since I've camped due to back problems. Am ready to give it another go. But summer camping!