Do you embarrass or blush easily?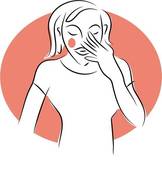 Canada
January 17, 2009 5:06pm CST
For better or for worse I do! I have a very fair complexion as well as a very expressive face, and so what ever it is so I'm thinking or feeling -- it's written all over my face and there is absolutely no way I can deny it. Maybe, that's one of the reasons I tend to tell people what I think and call a spade a spade. What about you do you embarrass or blush easily? Can people easily tell what you are thinking just by looking at you? As always your comments in responses are appreciated. Happy Mylotting!

6 responses

• United States
17 Jan 09
I don't change color but I have a issue with my expressions.lol I often get caught between a rock and a hard place because I'm not good at hiding my inital thoughts to anything.I have been described as being "animated"lol I don't know if that's good or bad but either way I guess that's just me. I'm not so easily embarrassed.Like you ..a spade is a spade.

• Philippines
18 Jan 09
I like to think that I'm WYSIWYG but this might just be in my mind because people find it hard to read my face. Maybe I don't have enough facial muscles trained to make it expressive. Cheers!!

• Bulgaria
18 Jan 09
When I was little I used to express my emotions with expressions and I used to blush easily.Now I can hide my emotions and I don`t blush easily...on the inside.But when I am with freands they often tell me "Wow,your face is really expressive!How didn`t I noticed that?"This is because I am open only with friends and I hide my emotions in front of strangers.But actually my face is really expressive and I couldn`t even say a joke witout somebody notice that I am lieing so on first april I was bored.Happy MyLotting!


• United States
17 Jan 09
Hi wheel416, I am a lucky one, I don't blush or turn red

, actually I am quite good at masking my thoughts and feelings when I want too. What can betray me however is my mouth, it is my words and tone that can give my true feelings away. So after some 50 years of life, I have learned to just smile

, keep my mouth shut, and keep 'em guessing!

Be happy, be joyful, be safe, be strong
! Oohcute2340!

• United States
17 Jan 09
No i dont if any ting it is me making people blush,i dont mean to but i am jus one of theses that speaks me mine and some times things i say come out wrong.