so many lemons....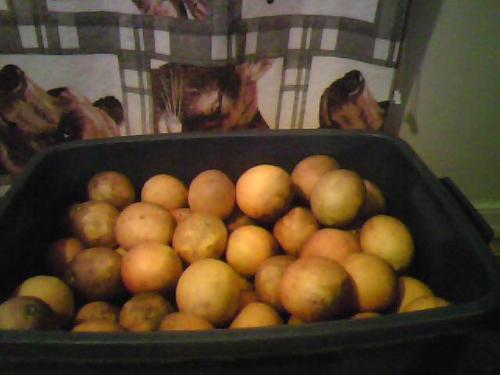 United States
January 18, 2009 4:19am CST
okay we have a lemon tree and its pretty big, but it usually doesnt bloom that many lemons at all. this year was a different story, as you can see in the picture we have over 100 lemons!! i know that you can squezze some of them for the juice, but what else can i do with all these lemons, does anyone know? we had to pick them before the freze, and i dont want them to go to wast.
5 responses

• Malaysia
29 Jan 09
Hi jamesgrub, I had a lemon tree before. It was planted beside the gate. We had got the first harvest after a few years since it was planted there. The lemons harvested were in elongated oval shape. The average size of the lemon was 10 cm or 8 inches averagely. It was green in color and would turn into yellowish when it was ripe. Yeah, it would bear a lot of fruits after seeing the lovely white blooming flowers. We used the juice squash to season our homemade veggies pickles. My kids loved pickles prepared from slices of cucumber, pineapple, big onion and red pepper, and of course suitable amount of lemon juice and some brown sugar added to them. Our fruits salad would taste more delicious if lemon juice and olive oil is added to it before served. Very often we would brew hot or cold black tea with lemon juice added to it. One or two small thin lemon slices floating on the top of the drink would make it look more attractive. Sometimes we gave some to our neighbors, relatives and friends. We cut down the lemon tree two years back for my hands were easily hurt by the large numbers of thorns growing on the stems and branches of the tree. So nowadays we can get lemon from the market whenever we need only. Happy

posting and good

luck.

• United States
6 Feb 09
i know what you mean. it didnt ever harvest as many as this year. thank you.

• United States
18 Jan 09
Pass some of those lemons over here. I'll take them. You could make some lemon curd, lemon pudding, lemon custard pie, lemonade, chicken piccata, lemon bars. How about making some lemon marmalade? It is pretty much like orange marmalade, but with a different citrus fruit. Here are a lot of good ideas to use up some of those lemons. http://www.joyofbaking.com/LemonArticle.html


• United States
18 Jan 09
yeah i know i didnt mean to post the other one. i had the discussion, then i had to go back because i forgot the picture and it posted the other one anyways. lol i know i dont have one but i can borrow my grandmothers. thanks for your help.

• Philippines
18 Jan 09
You can candy it if you want. Sugar will do the trick for that and after all you can have a home made lemon spread!

• India
18 Jan 09
wow those are so lovely i wish you could give me some ...... maybe you can lend some to your friends and relatives.many dishes are prepared by using lemon so can use them as ingredient.lemon skin can help a woman become beautiful from head to toe.For example,skin whitening,slimming,reducing black spots,whitening teeth,giving them a good body shape along with beautiful hair and last but not least remove wrinkles.......have a good day