How do u use ur cellphone???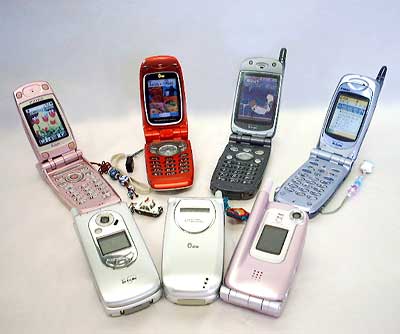 India
January 18, 2009 5:09am CST
now most of people have cell phones and even large number of them prefer multimedia phones..so what are things u do with ur phone do u just use ur mobile to make calls or try to hav fun like chatting through Sms,playing games,listening to music and also like surfing net.. please do share ur views happy mylotting
4 responses


• India
20 Jan 09
yeah when u keep on using cell phone at one point or other u feel bored..anyway it really helps in maintaining contact with ur closed one's... happy mylotting

• India
19 Jan 09
i like.. use my fone abt 30% as a fone..! other 70% wud be timepass lik games.. vdos.. music n all.. ofcourse.. sms n calls.. is wat a fone is meant for.. wen d brands r providing much more facilities than wanted y not use them!!..

• India
20 Jan 09
thats really great of u benny as although most of the people have multimedia phones but very few of them really use it's features..

• India
18 Jan 09
well when i had my first phone the only thing i ever wanted in a phone was a good signal, no network problems... user friendly and a good long battery as i used to speak with my friends and boy friend..... but after that phase was done i wanted a phone which had a camera... multi media, games and various other softwares.... thats when i got myself the nokia n72..... have it with me for over two years now and never thought much of changing it.... i know the camera is just 2 mega pixels and stuff..... but that is more than enough for me and the photos i take....i normally take a lot of photos when i am travelling and see something nice or interesting so i may want to take a phone with a greater mega pixel....but i like the phone i have now so there is no real hurry !! :)

• India
18 Jan 09
i too felt the same way...at first i thought any phone is just the same..but after few months i got bored with my first sony phone and then i shifted to nokia phone which was a multimedia one...i did used hav lot of fun with it at first but after few months it also appeared to bore me...and it continued for a while..i tried two other phones first for music purpose and then for taking pictures but after 3-4 years i really am feeling like a burden to carry heavy multimeadia phones... now i'm using just a simple phone which can make calls and send sms's and ofcourse would give 2-3 days of backup...so i'm very happy right now cause its very small and simple.. hav fun mylotting

• India
18 Jan 09
no i my cell phone i had only doing call or receive incoming calls and doing messages and all i don't like that cell which consist of all functions and keep on hanging so i use my music with my i pod so i had very simple phone

• India
18 Jan 09
thnks for ur response aristrocrat....so u prefer a seperate music player instead of a multimedia phone...thats good beacause sometimes its really hard to listen to music with mobile as some dont give better backup if u use multimedia applications..