Do you love dogs? If you don't, why?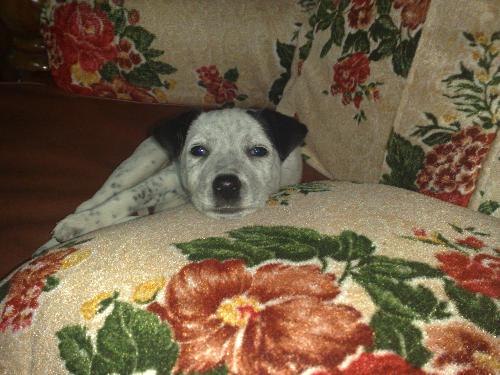 Philippines
January 20, 2009 4:00am CST
I was cleaning up pictures I have saved through the years and saw the picture I have with our latest pet dog. He loves to stay at the living room and sleep by the pillows. He gets mad and barks if you put those pillows away from him. LOL. Lovely and very funny! In some tiresome days, these wonderful pets gives a smile and it makes me love them more. How about you?
10 responses



• Canada
21 Jan 09
yes I love dogs, and right now I have cats and I love them to,they are sweet animals. We cannot have dogs in our appartments anymore so that is why I now have cats. But I love them and I won't be without them.

• Philippines
20 Jan 09
Hi jeanniemay. Before I met this very adorable dog, I just cant stand being with a dog nor find them adorable. But when I met this very cute and adorable dog, I just cant help but to touch and cuddle her. Her name is Tinkerbell and she just so sweet that everytime I see her, she lies on her back so I can scratch her belly. Its her way of greeting me and she wins my heart. My boyfriend was so suprised when he knew it because he knows that I hate pets in general. So when I told him that we will buy and have a pet dog when we go back to the Philippines he was quiet surprised and happy since he is a pet lover.

• Philippines
20 Jan 09
Hi jeanniemay! We have two dogs, one is half breed (native and imported..askal..haha) and the other one is a pit bull. I do love them but it is my husband who do all the works for them--feed them, bathe them, massage them and I only play with them for a few minutes because I can't keep up with their running and tugging.. But for the past 2 days now, I am the one feeding them since husband got so very, very busy and asked me to do my share. haha..Of course,. i did! I wouldn't want to starve them for they might eat me when I play with them in the garden. lol Take care and have a nice day! lovelots..faith210


• Australia
20 Jan 09
i adore dogs i think they are the greatest pets to have. they are so loyal and obedient if u train them right and they really make great company

• India
21 Jan 09
I love dogs and my younger sibling also dotes on them. We have been persuading parents since quite some time for a pet but it seems its still going to take a long time for the convincing.

• United States
21 Jan 09
Oh, I love my two little Shih-Tzus dearly. Patches and Ringo are my children basically. They both have me wrapped around their tails, lol. Ringo is a character especially. I actually had to teach him to bark because his own voice scared him, it was so funny. Patches is my oldest at 10 (Ringo is 8) and he is our little "Camel" because he drinks for about 5 minutes about twice a day. He's always done it, we just don't know why. I love my little ones.