how sweet is this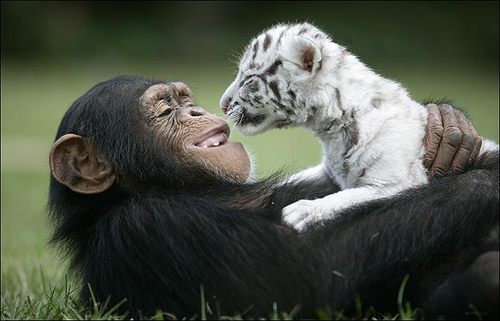 United States
January 20, 2009 8:58pm CST
White tigers get new mommy!! When hurricane Hannah separated two white tigers from their mother, Anjana came to the rescue. Anjana, a chimp at TIGERS South Carolina, became surrogate mom and playmate to the cubs, even helping with bottle feeding, according to The Sun. But here's the truly amazing part: This is something Anjana does all the time, having helped raised leopard and lion cubs on several occasions.
3 responses

• United States
21 Jan 09
It always warms myheart to see this sort of thing. Seeems to occur a lot in the animal kingdom, doesn't it? There was recently a segment on Sunday Morning that showed a strange and wonderful little frienship that had developed between an elephant and a little dog. When the dog became ill and had to have surgery, the elephant left his herd area and came and stood at the fence in front of the place where the dog was being held and bellowed until they started carrying his friend out to see him a few times a day. The dog has now recovered and the two animals are again inspeparable.

• United States
21 Jan 09
Awww, that is sweet. Animals know babies, babies are precious to all of us, it really doesn't matter what kind of baby or what kind of animal is takin care of the baby. It really is special when other animal species take care and love other babies then their own.

• United States
21 Jan 09
it sure is. my mother sent that to me in an email and it made me smile.

• United States
21 Jan 09
That is really amazing that she has helped raise so many different animals. She must be a very loving chimp. You hear a lot about dogs raising other kinds of animals but I have never heard of a chimp raising a tiger.

• United States
21 Jan 09
I know I have never seen anything like that either, my mom emailed it to me.